Meet Jaime Creixems, Design Advocate at Sketch
April 13, 2023
We are lucky to have so many wonderful sponsors of this year's Enterprise UX conference–and we thought you might like to get to know them better! We've asked all of them some questions that get to the heart of why they're passionate about enterprise design. Learn what it's like to work at Sketch, and what makes their products and services special to enterprise professionals.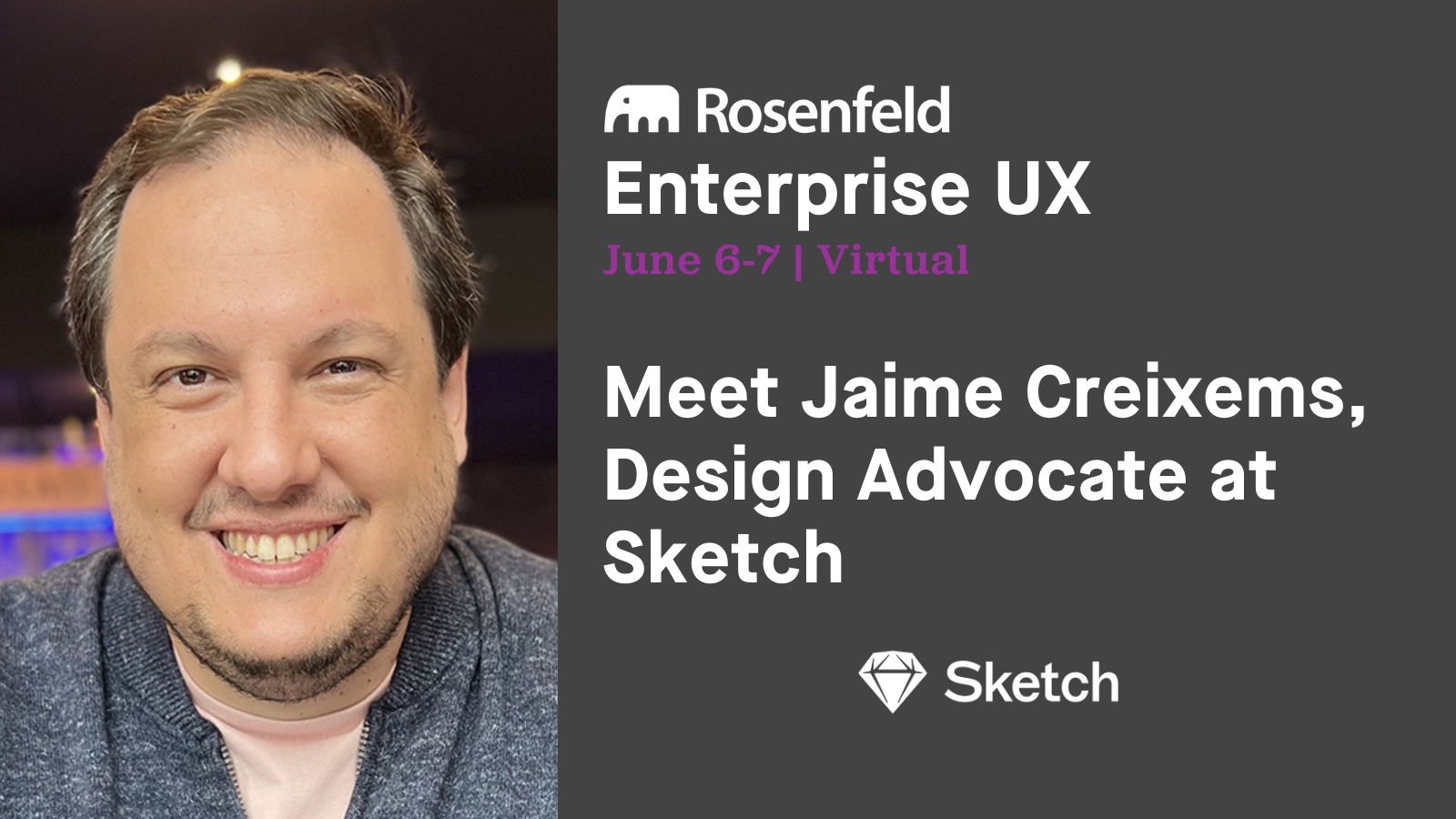 Rosenfeld Media: Why are you sponsoring this year's Enerprise UX?
Jaime: We're passionately involved in creating the tools that the enterprise needs when it comes to design.
Rosenfeld Media: What excites you about enterprise design?
Jaime: The impact that good design can have at the enterprise level can affect millions of people.
Rosenfeld Media: What is your culture like, who would new employees work with, and who are the champions?
Jaime: We have a very empowering culture. Everyone is meant to be a manager-of-one, taking ownership of their responsibilities and maximizing their skills. But it's also a super friendly, relaxed environment where all ideas are welcome. We believe in ownership as a primary value.
Rosenfeld Media: What types of value and benefits do you/your product bring to the practice and our community?
Jaime: We provide one of the most complete platforms in the market for creating and managing all the needs that design departments have in the enterprise. Design Systems management, Prototyping, Icon Design, Full UI design, libraries, collaboration, multi-platform, component and style management and so many other features that enable teams to create and deliver great design assets for their products.
Rosenfeld Media: What else should our community know about you?
Jaime: We've been here since the start, we defined the rules of the industry and continue to do so. We're also here to listen, to get to know the enterprise needs in order to make the best design platform for them and adapt to their needs. We stand for great quality, for crafting, for robustness, for creativity, for empowerment and we're here to provide that to everyone.
View Sketch's sponsor page for their scheduled sponsor activity sessions and more.