Videoconference: Perspectives on Civic Design
Thursday, September 23, 2021
|
11:00am
-
12:00pm
ET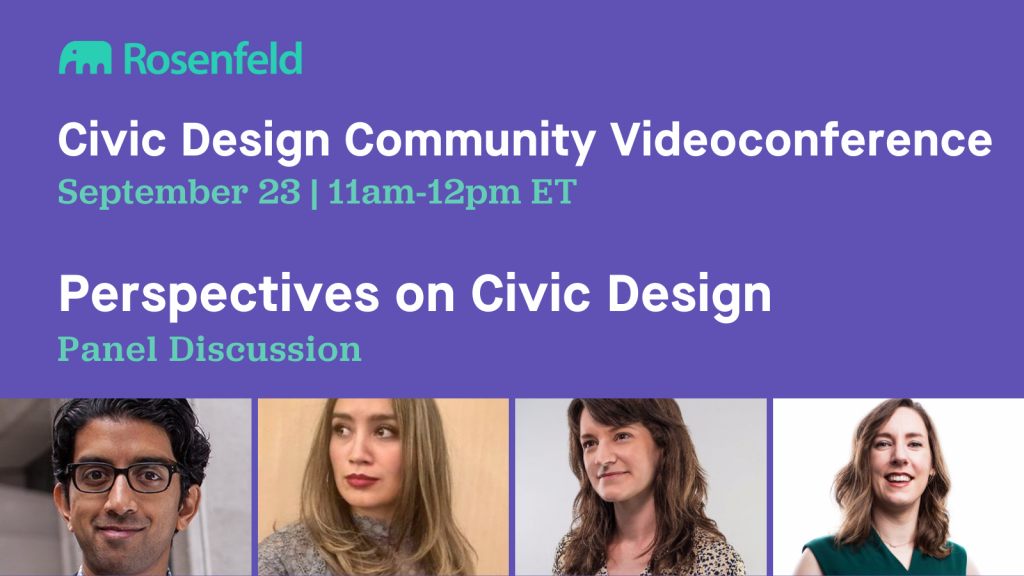 For our first gathering of the Civic Design Community, we'll hear a few different perspectives on civic design and how the practice changes and stays the same in different contexts. We'll explore how designers inside and outside government build alliances with policymakers, program managers, electeds and more in order to change how services are delivered, improve outcomes, and create longer term capacity for design-informed ways of working across different roles and levels of government. 
Our panelists:
More about our panelists:
Chris Govias is a designer who's worked with startups, charities, Fortune 500 companies, and two federal governments. As the Head of Design for the Ministry of Justice (UK), he was on the forefront of delivering transformative, user-centred government services. That work led to him becoming a founding member and the Chief of Design with the Government of Canada's Canadian Digital Service. Today, as Chief Design Officer for Domain7, he continues to work at the intersection of people, design, technology, and service delivery.
A proud, but unlikely bureaucrat, Mai-Ling Garcia strives to make the government simple and easy to use. She works to bridge the gap between rapidly evolving technologies and their use to benefit communities. She developed and executed a digital and service delivery strategy for the City of Oakland as the City's Digital Engagement Officer. She founded the City's first Digital Services team focused on improving the public experience of government for Oaklanders, including Oaklandca.gov. More recently, she is serving the City of San Francisco Digital Services as the Head of Digital Strategy and Engagement. She enjoys fancy foods, a vigorous hike, and the laughter of family and friends.
Emily Lessard leads strategy and marketing at Bellweather. Prior to Bellweather, Emily was Senior Vice President of Creative / Creative Director at NYC & Company, the marketing and tourism agency for New York City, where she led a company-wide rebrand, that included the relaunch of nycgo.com. She also provided the creative strategy for all domestic and international tourism campaigns, including the creation of See Your City, See It For Yourself, and Taylor Swift's Welcome to New York campaign. Emily lives in Philadelphia with her husband and daughter.