Fireside Chat: How Design Addresses a World on Fire
Friday, March 18, 2022
|
11:00am
-
12:00pm
ET
Session Details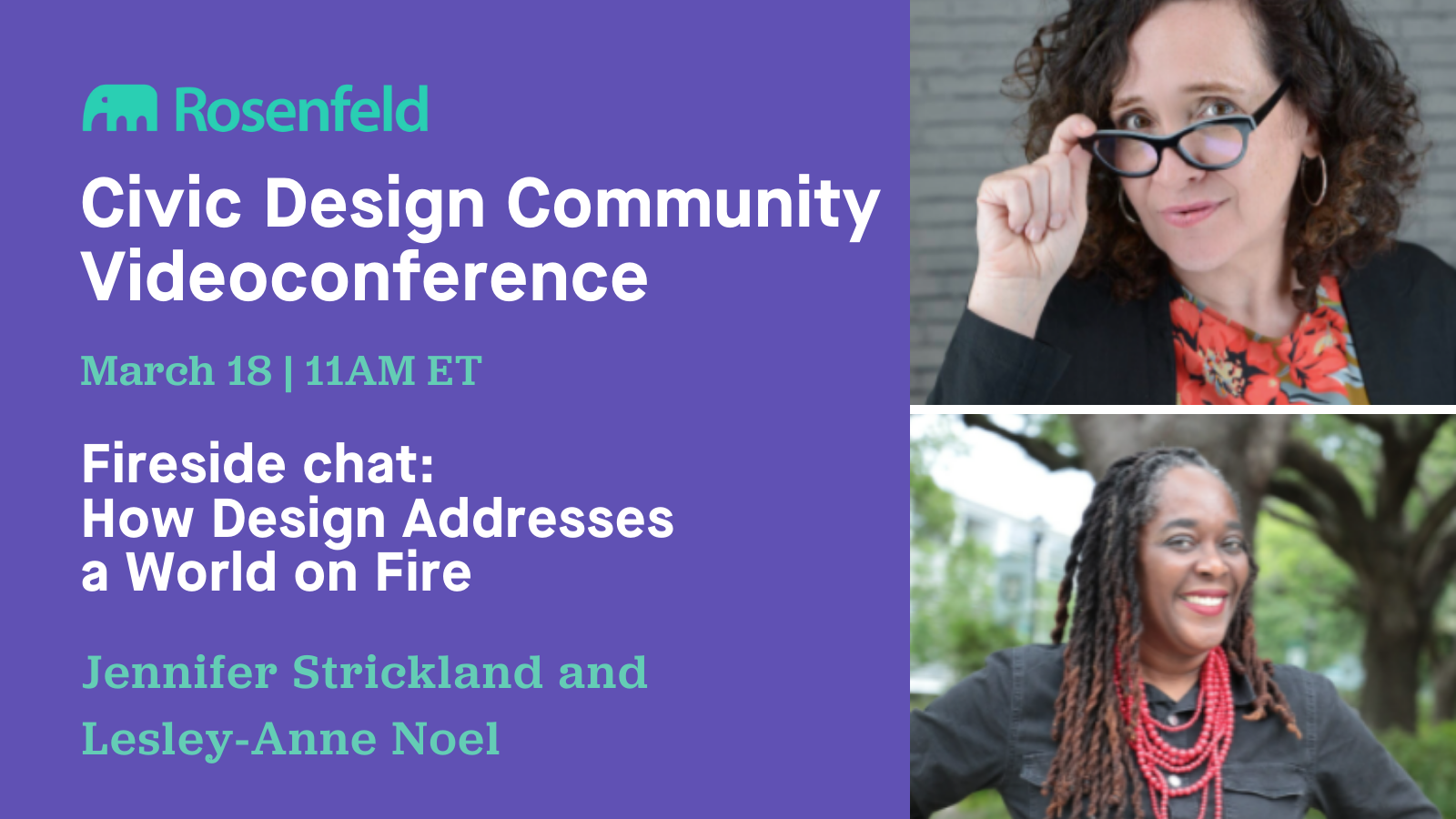 Please join us at the next Civic Design Community call where you'll hear from Lesley-Ann Noel, PhD., and Jennifer Strickland, Senior Human Centered Design, Accessibility Engineer. 
Jennifer and Lesley-Ann will chat about how they approach equitable design through language, frameworks, tools, methods — and self-care. The conversation will cover how Lesley-Ann created The Designer's Critical Alphabet, and introduce the new book she contributed to,The Black Experience in Design: Identity, Expression, & Reflection.
About our guests
Lesley-Ann Noel is an Assistant Professor in the Dept. of Design Studies at North Carolina State University. She has a BA in Industrial Design from the Universidade Federal do Paraná, in Curitiba, Brazil. She has a Master's in Business Administration from the University of the West Indies in Trinidad and Tobago. She earned her Ph.D. in Design from North Carolina State University in 2018. Before joining North Carolina State University, she was the Associate Director of Design Thinking for Social Impact at Tulane University, and she was a lecturer at Stanford University and the University of the West Indies.
Lesley-Ann practices design through emancipatory, critical, and anti-hegemonic lenses, focusing on equity, social justice, and the experiences of people who are often excluded from design research. Her research also highlights the work of designers outside of Europe and North America as an act of decolonizing design. She also attempts to promote greater critical awareness among designers and design students, introducing critical theory concepts and vocabulary into the design studio e.g. through The Designer's Critical Alphabet. She is one of the authors of the new book, The Black Experience in Design: Identity, Expression, & Reflection from Allworth Publishing.
Lesley-Ann's research interests are emancipatory research centered around the perspectives of those who would traditionally be excluded from research, community-led research, design-based learning, and design thinking. She practices primarily in the area of social innovation, education, futures workshops and public health. She is co-Chair of the Pluriversal Design Special Interest Group of the Design Research Society.
Jennifer Strickland is a Senior Human Centered Design, Accessibility Engineer. With a non-traditional path to design and more than 25 years of professional experience in a variety of mediums, Jennifer led product teams and served in nearly every role in the product life cycle. With an intersectional, non-binary identity of a multi-racial ethnicity and invisible disabilities, they experience a lot of exclusion. Prioritizing inclusion, Jennifer aims to ensure no one is excluded from products and services from the beginning. Inclusion as culture, not a feature to be backlogged.
Additionally, Jennifer is an invited expert with the W3C, serves on the Web Content Accessibility Guidelines (WCAG) Working Group, finalizing WCAG 2.2, drafting WCAG 3.0, and a co-lead of the Structured Content sub-group. They volunteer with a number of organizations such as the U.S. Digital Response, AIGA DC (2021 DotGov Programming Director, IxDA DC (organizer), UXPA DC, and speak on inclusion, accessibility, web performance, and CSS at a variety of events. Jennifer was a speaker for the inaugural Rosenfeld Media Civic Design Conference in December 2021.