Last minute tickets on sale!
Meet Billy Carlson, Design Educator, at Balsamiq
September 1, 2023
We are lucky to have so many wonderful sponsors of this year's DesignOps Summit–and we thought you might like to get to know them better! We've asked Billy some questions that get to the heart of why they're passionate about DesignOps, what it's like to work at Balsamiq, and what makes their products and services special to DesignOps professionals.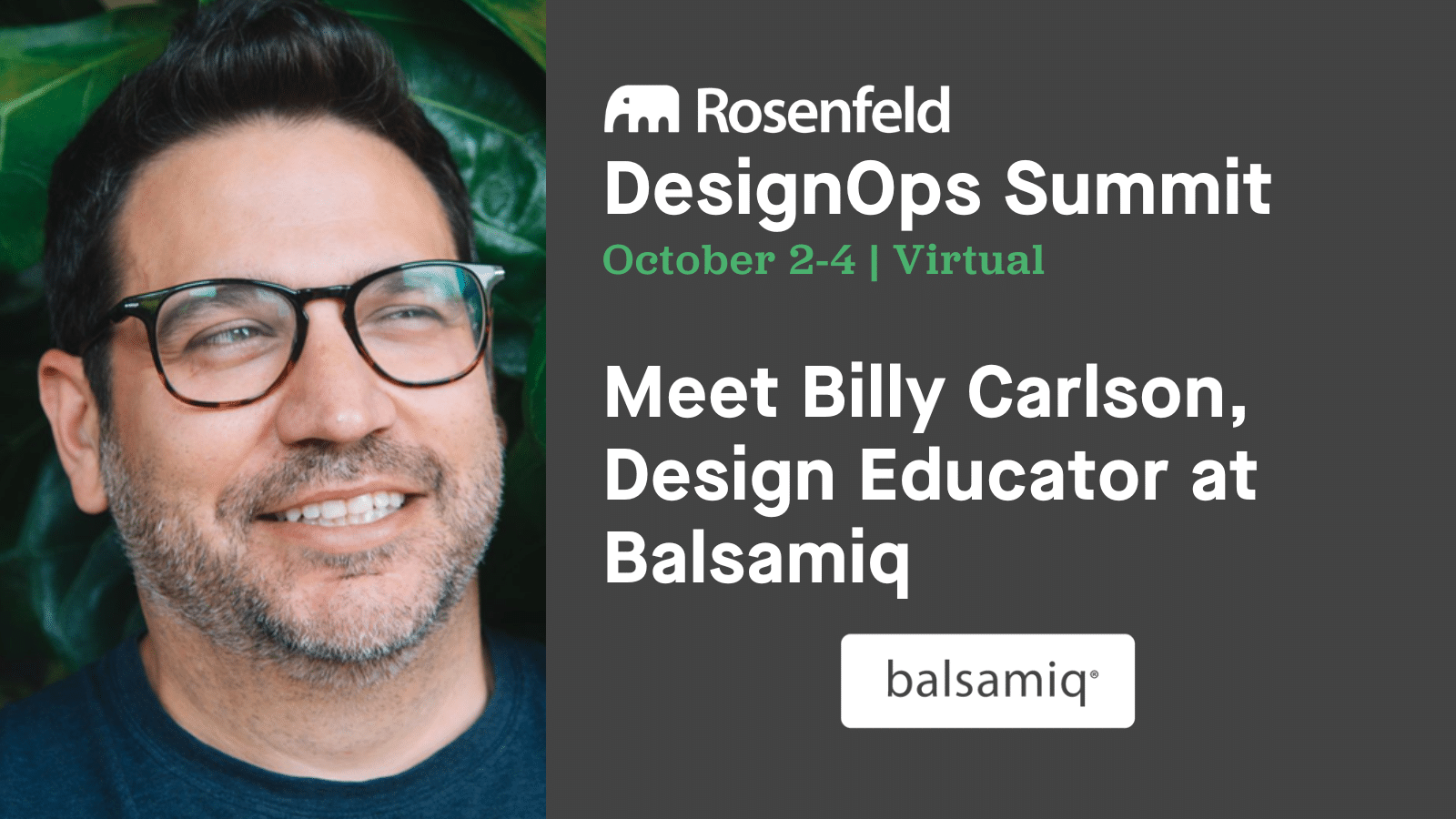 Rosenfeld Media: Why are you sponsoring this year's DesignOps Summit?
Billy Carlson: We know DesignOps can improve how teams work together so that they can create consistent, quality, design.
We're committed to helping companies of all sizes do their best, most efficient design work by providing a wireframing tool that is fast, easy to use, and accessible to everyone. DesignOps teams often tell us how helpful Balsamiq is in improving their processes and collaboration.
As scholarship sponsors, we're excited to make this conference accessible to more people who may not otherwise have access.
Rosenfeld Media: What excites you about design operations?
Billy Carlson: When scaling a product, the increased number of stakeholders and moving parts means clarification and collaboration are essential steps in the design process.
Our unwavering focus on low-fidelity wireframing makes it impossible to waste time fiddling with details and lets all stakeholders quickly align and build a cohesive product.
Rosenfeld Media: What types of value and benefits do you/your product bring to the practice and our community?
Billy Carlson: Balsamiq lets anyone create wireframes quickly and easily without complex tools or design knowledge. The drag-and-drop intuitive interface and pre-built UI components make it easy to share and iterate on your ideas—whether it's a website or an app.
Balsamiq lets teams collaborate, share feedback, make changes, and ensure everyone is on the same page. Plus, with clear visuals, you'll know you're working towards a common goal.
Tens of thousands of customers in dozens of countries use Balsamiq to transform the way they create exceptional products. Learn more at www.balsamiq.com.
Rosenfeld Media: What else should our community know about you?
Billy Carlson: You know how to use Balsamiq before you even start. And for those looking to learn more, Balsamiq offers educational resources (Balsamiq Wireframing Academy), tutorials, documentation, and a supportive community.
We also wrote a book! It's called Wireframing for Everyone, and is a quick read that will help anyone on a UX team streamline their workflow, improve stakeholder communication, and design more creatively. Order your copy today!
View Balsamiq's sponsor page for their scheduled sponsor activity sessions and more.