Meet Medet Gündüz, Community Manager, at Sketch
September 14, 2021
We are lucky to have so many wonderful sponsors of this year's DesignOps Summit–and we thought you might like to get to know them better! We've asked Medet some questions that get to the heart of why they're passionate about DesignOps, what it's like to work at Sketch, and what makes their products and services special to DesignOps professionals.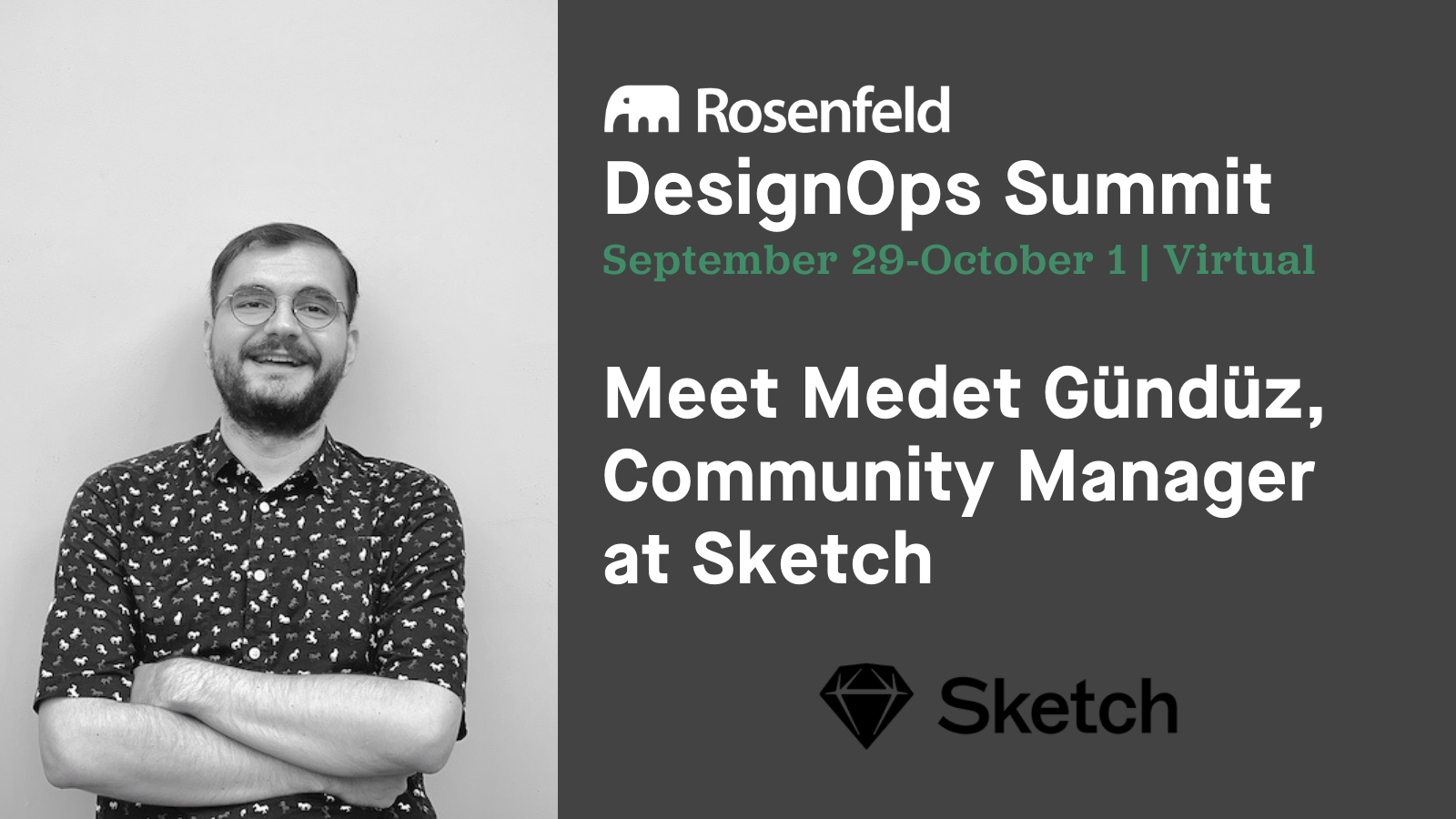 Rosenfeld Media: Why are you sponsoring this year's DesignOps Summit?
Medet Gündüz: We wanted to team up with DesignOps because we have common goals around inspiring and empowering designers. DesignOps provides a space where talented designers get together to discuss all things design with the goal of taking the industry forward. At Sketch, we take pride in doing the same. Indeed design has come a long way and Sketch has been there for the ride, empowering designers and taking design forward. This is ever our goal and so we're excited to partner with DesignOps on this.
Rosenfeld Media: What excites you about design operations?
Medet Gündüz: The design industry has matured, and design teams have grown in size to allow them to tackle the multitude of demands placed on designers today. Design has to scale across different platforms, but always remain consistent and recognizable. These are huge challenges and we strive to give teams the necessary tools to meet these head-on. With Libraries and Workspaces, we've invested in having a shared source of truth, while pushing collaboration forward with real-time collaborative editing. All so that teams — including our own — can work better together. This is our great passion and we couldn't be more excited.
Rosenfeld Media: What is the professional experience like for designers and DesignOps people at your company?
Medet Gündüz: It's our mission to help people create their best work and design better products. To achieve this, we believe in the importance of open minded designers and creativity. We value people that can make a change and bring fresh ideas to the table so we can work together to make them a reality.
At the same time, we of course recognize the importance of having standards and design systems — and following them. Especially as teams grow. A close integration between design and development is key for both a fast turnaround and consistency. That's why we're always investing in tools — both features in Sketch itself and tooling around it — to help this run as smoothly as possible.
Rosenfeld Media: What is your culture like, who would new employees work with, and who are the champions?
Medet Gündüz: Sketch has a culture that evolves around freedom and trust. Being a remote-first (and remote-only) company means we place a lot of value on these two main pillars. Everyone here can make decisions and get things done in a way that makes sense to them. You find yourself in a team where your ideas matter and you get the unique perspective of designing for designers. They're a notoriously picky audience, and we love them for it!
Our industry is always evolving, and it's up to us to make an impact where it counts. So we work hard to stay flexible, adapt and always be ready for change.
We also put value in taking ownership and responsibility for what we do, working proactively, figuring things out, and asking for forgiveness rather than permission. In a way, everyone is a champion at Sketch.
Rosenfeld Media: What types of value and benefits do you/your product bring to the practice and our community?
Medet Gündüz: Our co-founders started Sketch back in 2010 because they believed designers deserved better tools — and that focus hasn't changed. What started back then with building a better editor has evolved into a platform that allows you to put design at the heart of your business. Today, we have a collaborative design environment — which includes automatic distribution for your design system — as well as real-time collaboration and great handoff tools. In other words, Sketch can help your team stay firmly in control of your DesignOps challenges.
View Sketch's sponsor page for their scheduled sponsor activity sessions and more.