Meet Basel Fakhoury, CEO and Co-Founder, at User Interviews
September 10, 2021
We are lucky to have so many wonderful sponsors of this year's DesignOps Summit conference–and we thought you might like to get to know them better! We've asked all of them some questions that get to the heart of why they're passionate about enterprise design and design operations, what it's like to work at User Interviews, and what makes their products and services special to enterprise professionals.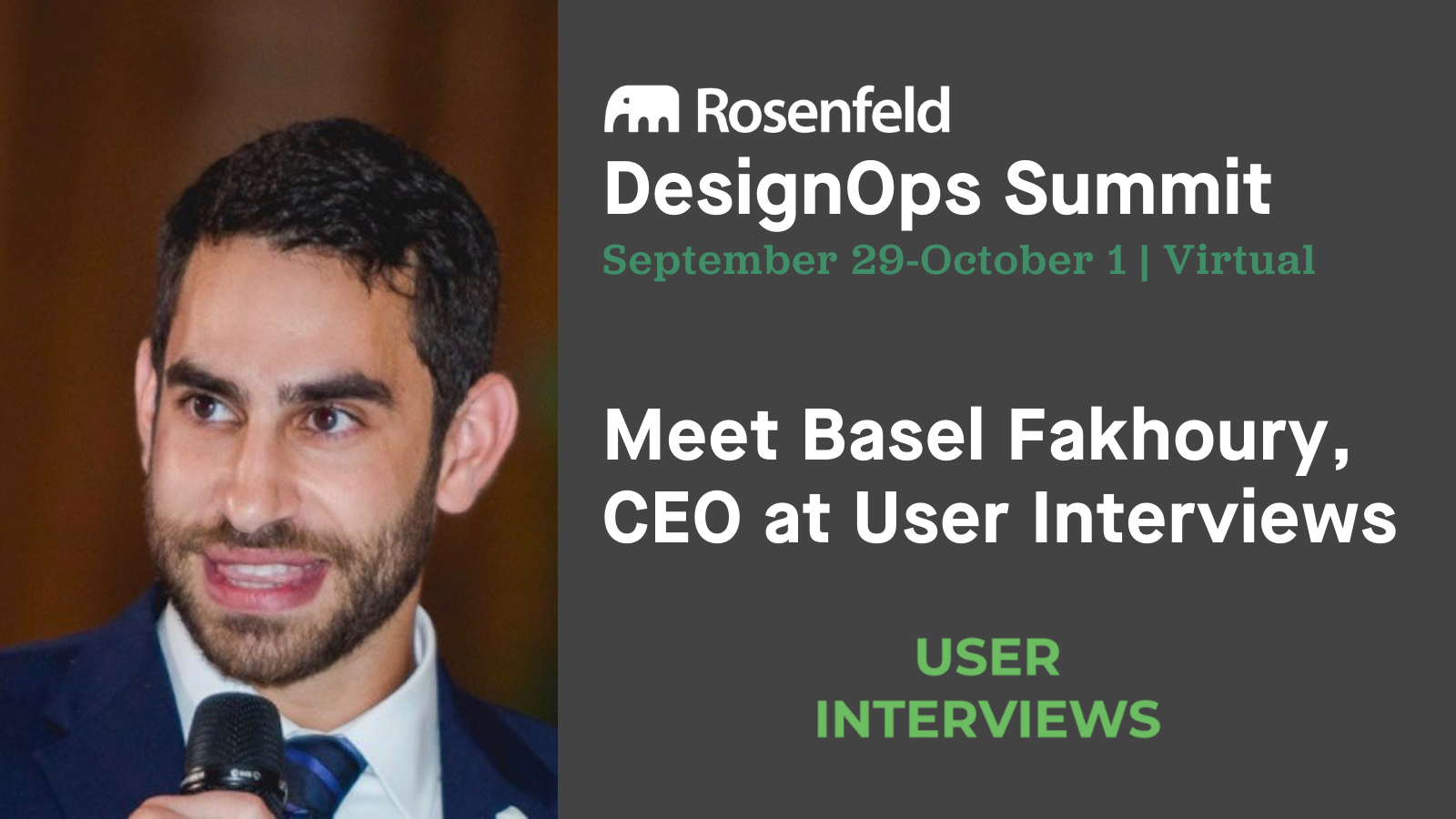 Rosenfeld Media: Why are you sponsoring this year's DesignOps Summit?
Basel Fakhoury:
We're thrilled to be returning after a great experience at Advancing Research earlier this year. The quality of the speakers, programming, and attendees is world class.
Rosenfeld Media: What excites you about enterprise design?
Basel Fakhoury:
Design ops is a fast-growing field. It's exciting because it's new, but also I think design ops is the function that can move a company from having a team of talented designers to being a truly design-driven company.
Rosenfeld Media: What is the professional experience like for designers and DesignOps people at your company?
Basel Fakhoury:
Designers are involved with every part of our product process. They work closely with our PMs, researchers, and engineers to help us remove friction from doing user research. In fact, we're hiring for a Director of Design now!
Rosenfeld Media: What is your culture like, who would new employees work with, and who are the champions?
Basel Fakhoury:
We are fully remote, and always have been (even in the before times).
This is a cornerstone of our culture—we rely on lots of async communication and trust.
We're also a diverse group of smart people with a lot of empathy for our customers and each other. We're outcome-oriented but prize a healthy work-life balance and sustainable growth. We try to practice what we preach and bring user insights into our decision-making consistently.
We also quadrupled over in the past 18 months and have raised $16.5M, so we're growing fast!
Rosenfeld Media: What types of value and benefits do you/your product bring to the practice and our community?
Basel Fakhoury:
Our Recruit product is a platform for recruiting research participants. It's a self-serve platform on of top of an audience, tied to a set of automations that helps companies find niche candidates, fast. Our main differentiators are:
1) speed—we usually can fill a study in under 5 hours and
2) our ability to find niche users, including professionals such as SMB owners.
Rosenfeld Media: What else should our community know about you?
Basel Fakhoury:
I love meeting new people and learning new things—so please reach out!
View User Interviews's sponsor page for their scheduled sponsor activity sessions and more.