Meet Greg Petroff, Senior Vice President of Design and User Research, at Compass
June 1, 2021
We are lucky to have so many wonderful sponsors of this year's Design at Scale conference–and we thought you might like to get to know them better! We've asked all of them some questions that get to the heart of why they're passionate about enterprise design, what it's like to work at Compass, and what makes their products and services special to enterprise professionals.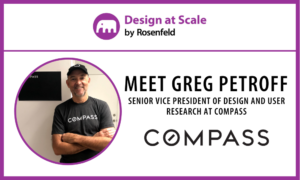 Rosenfeld Media: Why are you sponsoring this year's Design at Scale?
Greg Petroff: We are building a top notch design organization at Compass and we are excited to share our story with the community. As a platform company in the process of scaling our team and simultaneously scaling our product, the theme of this year's Design at Scale is particularly fascinating to us. Finally, we want to support the broader UX community and we value the learning experiences provided to our team through this forum.
Rosenfeld Media: What excites you about enterprise design?
Greg Petroff: We are in a unique space at Compass because we are designing for enterprises of one to twenty people not fifty thousand people. It is a business-to-business play and when you look at enterprise the problem space is really interesting. There are established ways to work and a variety of new digital capabilities. Design is critical to help make sense of it all and is uniquely positioned to provide great business outcomes.
Rosenfeld Media: What is the professional experience like for designers and DesignOps people at your company?
Greg Petroff: We are a highly collaborative creative culture that exists inside a healthy product organization. For our individual designers this means we have a great opportunity to do really high quality work with peers that want design to be successful.
Rosenfeld Media: What is your culture like, who would new employees work with, and who are the champions?
Greg Petroff: Compass at its core is customer centric so we are organized to support this focus. Our culture is one of speed, collaboration and customer centricity. Our goal is to deliver really impactful outcomes that help our 18,000+ real estate agents be successful. It's a really fun place for Design to be because getting the experience right is a meaningful way to help our agents achieve their outcomes.
Rosenfeld Media: What else should our community know about you?
Greg Petroff: I learned how to make wood fire pizza during the pandemic and I have been brewing my own beer. I'm looking forward to having friends over now that we can do that safely for homemade pizza and beer.
View Compass's sponsor page for their scheduled sponsor activity sessions and more.