Meet Gozel Aamoth, Sr. Director, Research & Insights Operations & Program Management at Salesforce
February 26, 2021
We are lucky to have so many wonderful sponsors of this year's Advancing Research conference–and we thought you might like to get to know them better! We've asked all of them some questions that get at the heart of why they're passionate about user research and ResearchOps, what it's like to work with them, and what makes their products and services special to research professionals.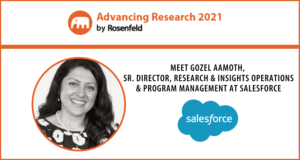 Rosenfeld Media: Why are you sponsoring this year's Advancing Research?
Gozel Aamoth: We are excited to be a part of this community that continuously supports the growth and evolution of the Research and Operations practice.
Rosenfeld Media: What excites you about Research and/or Research Operations?
Gozel Aamoth: We deliver insights from the spark of an idea to our customers' success. We collectively create an environment in which we can do our best work, valuing our well-being, our craft, our growth, and our participation in our communities. We invest in Research Operations recognizing that our productivity and well-being rely on operational excellence.
Rosenfeld Media: What is it like for researchers and ResearchOps people to work at your company/organization?
Gozel Aamoth: Research Ops and Researchers work in close collaboration to help our business stakeholders achieve success for our customers. Research Ops is focused on creating programs to scale research processes, technology, and education to better enable our growing team and high demand for research. The Researchers and Research Operations team believe that their strong partnership is critical for the practice to effectively evolve within the organisation.
Rosenfeld Media: What is your culture like, who would they work with, and who are the champions?
Gozel Aamoth: Our team has a culture of collaboration, trust, and respect. We work in a fast-paced environment, where transparency is key, and strong team camaraderie is foundational to our success. We work cross-functionally across the broader organisation and build the necessary relationships to ensure optimal solutions are created for stakeholders to do their best work. Research and Ops Leadership advocates for the team's professional growth, encourages autonomy, and fosters a work/life balanced environment.
Rosenfeld Media: What else should our community know about you?
Gozel Aamoth: Did you know Salesforce has been named a Best Place to Work by Glassdoor in five countries across the globe? Read about how we've prioritised and maintained our culture here.
View Salesforce's AR2021 page for their scheduled sponsor activity sessions and more.