Meet Alejandro Rivas-Micoud, CEO, Userlytics Corporation
August 25, 2020
We are lucky to have so many wonderful sponsors of this year's Enterprise Experience conference–and we thought you might like to get to know them better! We've asked all of them some questions that get at the heart of why they're passionate about enterprise design and design operations, what it's like to work with them, and what makes their products and services special to enterprise professionals.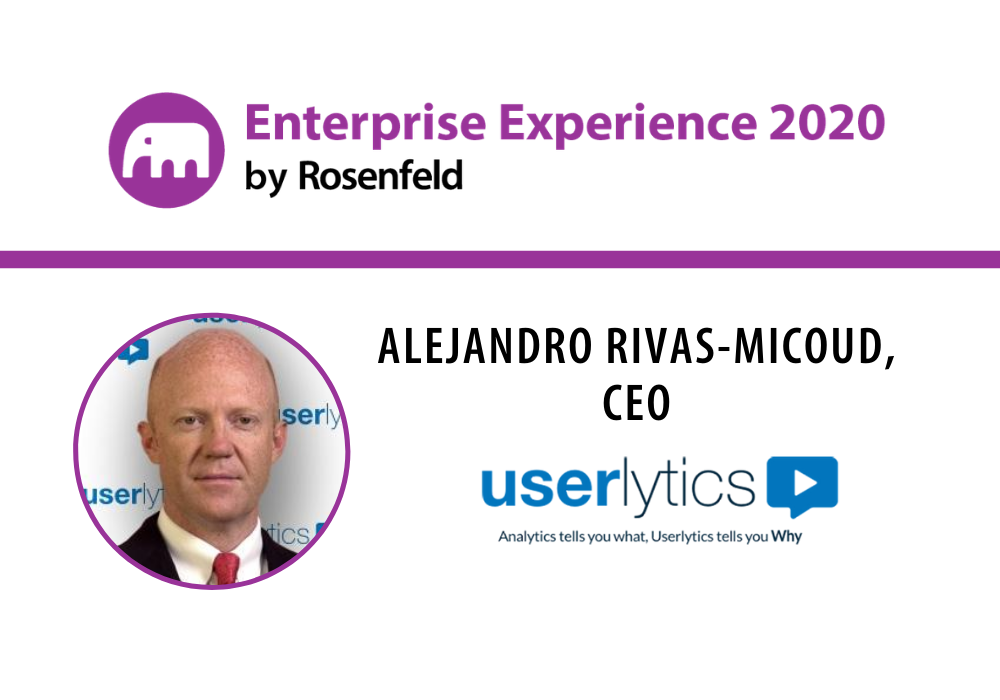 Rosenfeld Media: Why are you sponsoring Enterprise Experience 2020? 
Alejandro: Our mission is to help organizations uncover the "Why" and help create a more user friendly world. The enterprise C Suite has become increasingly aware of the massive ROI of improving the user experience within the enterprise, whether for their prospects, clients and partners, or for their own employees. We aim to help them achieve these goals.
Rosenfeld Media: What excites you about enterprise design? 
Alejandro: The last 15 years have witnessed an empowerment of enterprise users, lessening the disconnect that used to exist between the purchasers of enterprise systems and their users. This has resulted in a "bottoms up" approach in SaaS, where increasingly user adoption drives C Suite purchasing decisions, rather than the other way around. We expect this trend to accelerate, and result in the same type of "user centricity" in enterprise application design and testing and optimization that has been happening in the last 2 decades with external facing applications such as websites and mobile apps.
Rosenfeld Media: What types of value and benefits do you/your product bring to the practice and our community?
Alejandro: We are proud that so many of our customers laud us for our customer service and support, where we have a relentless focus on satisfying our clients, as well as discovering where we can improve. This culture and orientation has also resulted in an extremely fast innovation cycle within our company, where our feature set and services are continually being improved, both with customer led suggestions as well as internally generated innovations, so as to maintain and accelerate our leadership and global position in the fast growing market of user experience testing.
Rosenfeld Media: What else should our community know about you?
Alejandro: We are fun to work with!