Meet Sarah McIlwain, Product Design Manager at Abstract
August 19, 2020
We are lucky to have so many wonderful sponsors of this year's Enterprise Experience conference–and we thought you might like to get to know them better! We've asked all of them some questions that get at the heart of why they're passionate about enterprise design and design operations, what it's like to work with them, and what makes their products and services special to enterprise professionals.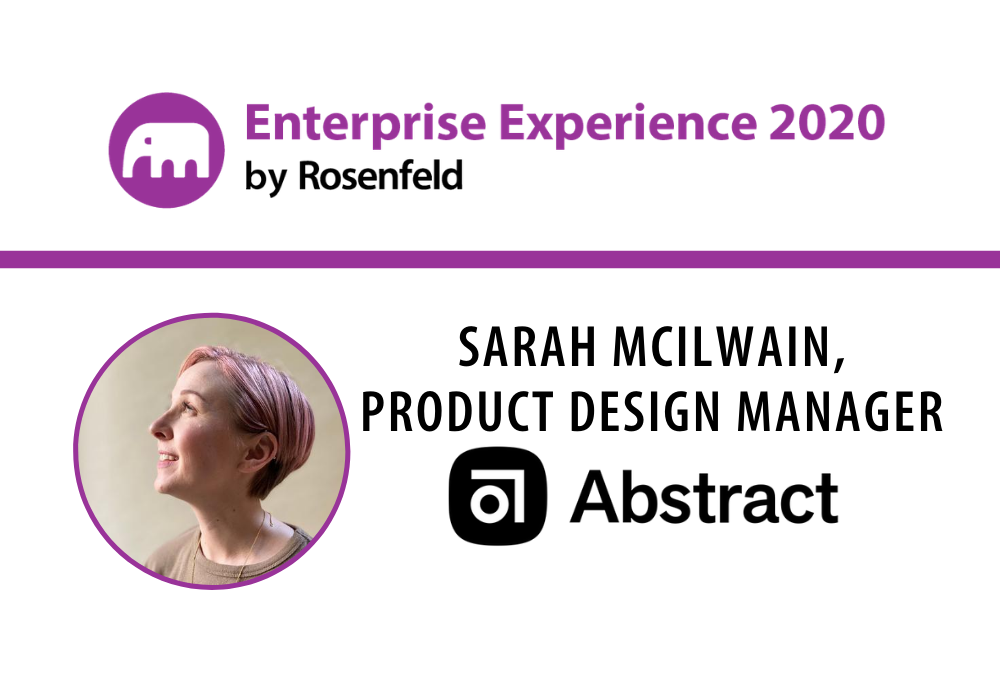 Rosenfeld Media: Why are you sponsoring Enterprise Experience 2020? 
Sarah: Now that Design has a seat at the table, teams are scaling faster than ever. Design leaders need a way to prove the value of design at their organizations through attribution, connection, and measurement. We're excited to talk to design leaders at enterprise organizations about how Abstract can help.
Rosenfeld Media: What excites you about enterprise design? 
We're at a critical moment in the design industry and there are so many new design tools on the market. With exciting advances in Design Systems and DesignOps, we believe that the industry is ready to make big strides in innovation and transformation.
Rosenfeld Media: What types of value and benefits do you/your product bring to the practice and our community?
Enterprise design teams are building complex design systems that help bring much needed consistency and organization to the design process. Abstract eliminates the work around work, so design teams can focus their time on user experiences and creative problem solving. Additionally, design teams can invite stakeholders into the process, which increases visibility and shows the impact and value of Design.
Adaptability and flexibility are competitive advantages, more than ever. The team at Banner Health recently shared how Abstract helped them to quickly pivot and get important updates to patients during the Covid-19 pandemic.
Rosenfeld Media: What else should our community know about you?
We have a lot of exciting things in the works that we can't wait to share with you. Sign up for our newsletter, The Commit, and follow us on Twitter to be the first to hear about them.