Meet Jim Couch, Director, Design Operations and Client Services at Nationwide
August 19, 2020
We are lucky to have so many wonderful sponsors of this year's Enterprise Experience conference–and we thought you might like to get to know them better! We've asked all of them some questions that get at the heart of why they're passionate about enterprise design and design operations, what it's like to work with them, and what makes their products and services special to enterprise professionals.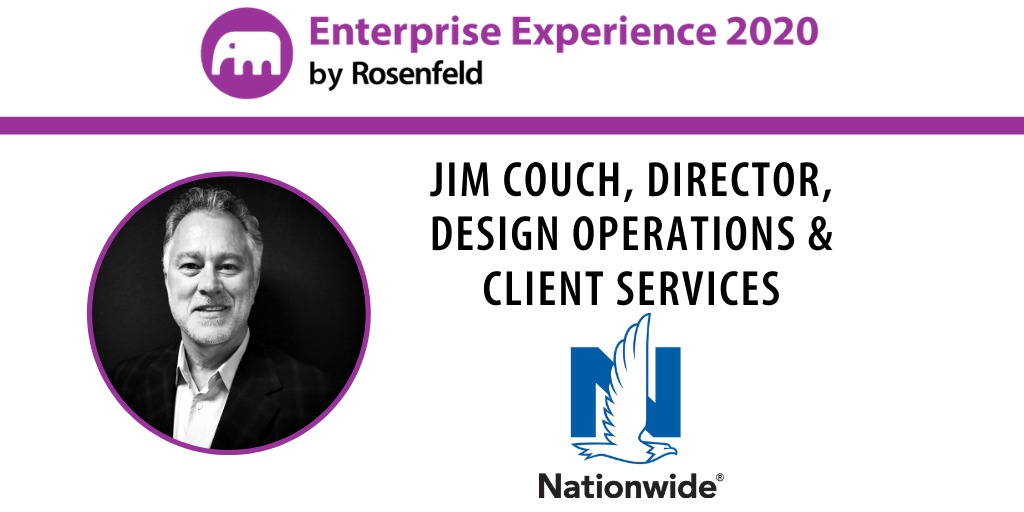 Rosenfeld Media: Why are you sponsoring Enterprise Experience 2020? 
Jim: Now in its 5th year, Enterprise Experience has proven to be the de facto authority in addressing corporate enterprise design issues. Their programs have provided phenomenal insights for advancing and optimizing UX practices within the matrixed enterprise environment. This is an invaluable community and resource that we enthusiastically endorse. We know this conference attracts the best and the brightest, so we see EE2020 as an excellent recruiting opportunity.
Rosenfeld Media: What excites you about enterprise design? 
Jim: Operating within an enterprise environment is a challenge for any young, little-understood profession. Communicating the value of design within such context is exponentially challenging. The reward is demonstrating value, converting minds and in the end delivering better, more thoughtful solutions that not only enhance people's lives but strengthens our brand and grows our business. It's about leveraging design as a strategic business tool.
Rosenfeld Media: What is the professional experience like for designers and DesignOps people at your company?
Jim: Demanding. Empowering. Rewarding. While Nationwide has always been customer-focused, the organization has recently doubled down on this strategy. Placing the end-user at the center of our decision-making process has amplified the need for designers, researchers, strategists and design operations. We're in a growth mode. Design is part of our corporate strategy.
Rosenfeld Media: What is your culture like, who would new employees work with, and who are the champions? 
Jim: We value people, are customer-focused, act with honesty and integrity and trust and respect each other. We advocate a human-centered design approach and work in a highly collaborative manner. UX team members work with a wide array of partners, including corporate executives, strategists, business owners, planners and developers.
Rosenfeld Media: What types of value and benefits do you/your product bring to the practice and our community?
Jim: Our products protect people, business and futures with extraordinary care.
Rosenfeld Media: What else should our community know about you?
Jim: We're hiring. We don't design insurance products (yawn). We solve problems, simplify complexity and building intuitive solutions that enhance people's lives. Becoming part of NWUX is a chance to make a difference.