Meet Jason Giles, VP of Product Design at UserTesting
August 19, 2020
We are lucky to have so many wonderful sponsors of this year's Enterprise Experience conference–and we thought you might like to get to know them better! We've asked all of them some questions that get at the heart of why they're passionate about enterprise design and design operations, what it's like to work with them, and what makes their products and services special to enterprise professionals.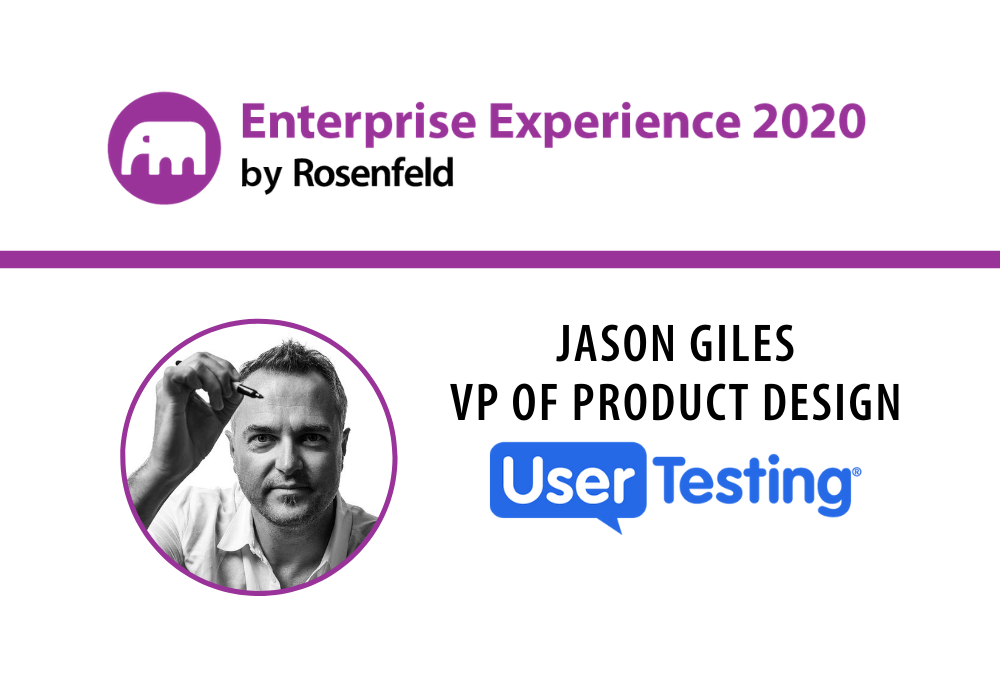 Jason Giles, VP of Product Design at UserTesting
Rosenfeld Media: Why are you sponsoring Enterprise Experience 2020?
A: At UserTesting, we believe the power of human insight can transform the way design teams build experiences for their customers. And with our on-demand human insight platform, collecting feedback from actual users has never been easier. UserTesting is a proud sponsor of Enterprise Experience—because we know that those who attend are serious about taking their organization's UX to the next level.
Rosenfeld Media: What excites you about enterprise design?
A: Designing within the enterprise is incredibly challenging. Navigating organizational hoops, confronting immense product and service complexity, scaling globally for an ever-evolving customer base requires incredible agility, ingenuity, and intestinal fortitude. But it's also the environment in which solutions to massively gnarly problems are solved by incredibly collaborative and tireless people who thrive on the challenge. For better or worse, the solutions and innovations forged in this context have global impact.
Rosenfeld Media: What types of value and benefits do you/your product bring to the practice and our community?
A:
1. Fosters customer empathy within your company
2. Provide confidence in decision making
3. Reduces subjectivity and builds your team's credibility
Rosenfeld Media: What else should our community know about you? 
A: I began my career at Microsoft, earning my stripes and effectively growing up alongside this discipline we now call Experience Design. After 15 years gaining a deep appreciation for the unique challenges and opportunities building design organizations within massive enterprise organizations, I've subsequently worked for increasingly smaller companies. Now, in my role at UserTesting, I'm thrilled to apply that experience to crafting our product to meet the needs that I have experienced myself first-hand.