Advancing Research is coming back in 2024 - and this time we're in-person!
Meet Ned Dwyer, Co-Founder and CEO of Great Question
February 16, 2023
We are lucky to have so many wonderful sponsors of this year's Advancing Research conference–and we thought you might like to get to know them better! We've asked all of them some questions that get at the heart of why they're passionate about user research and ResearchOps, what it's like to work with them, and what makes their products and services special to research professionals.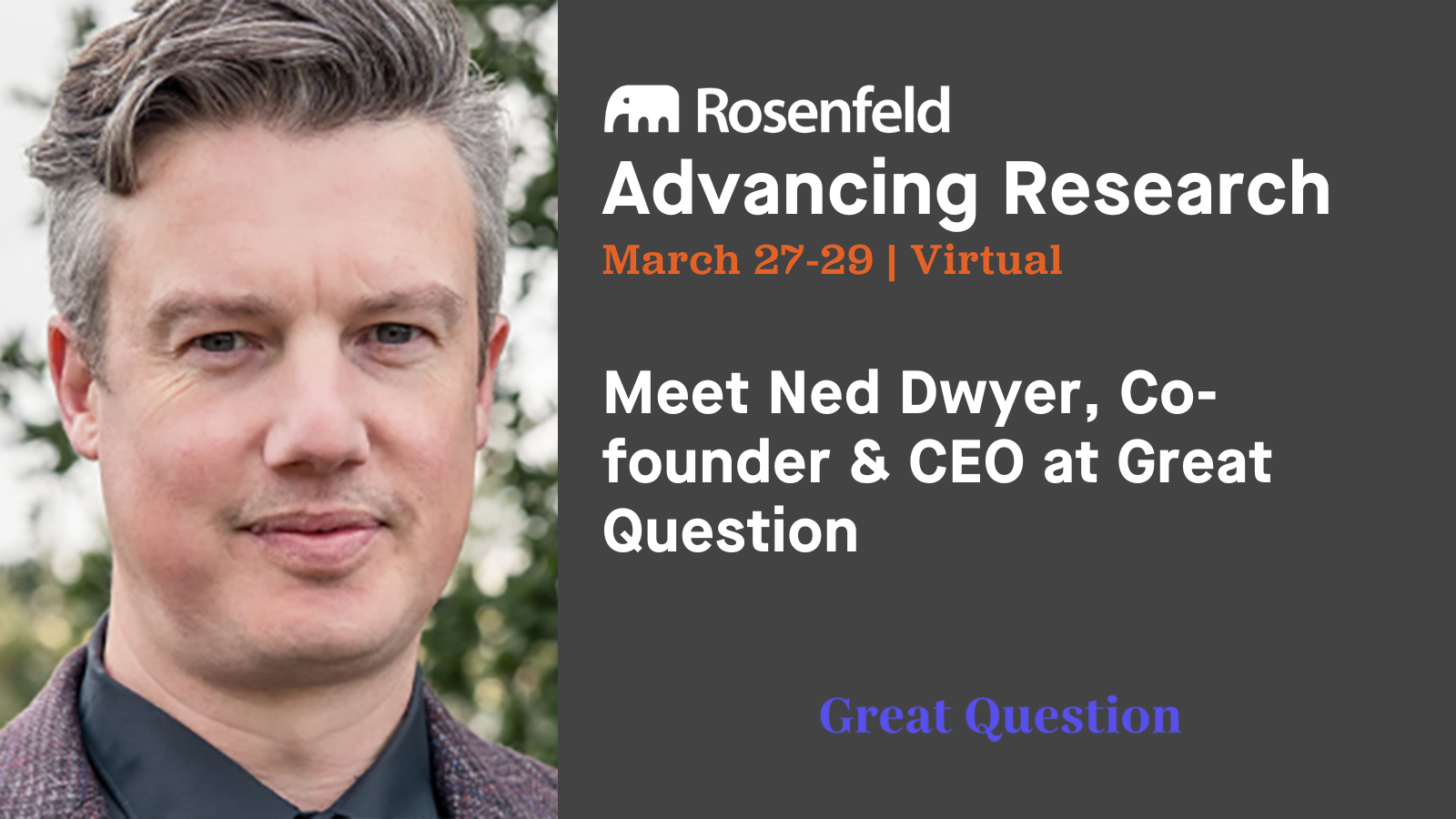 Rosenfeld Media: Why are you sponsoring this year's Advancing Research?
Ned Dwyer:
At Great Question, we're passionate about the impact of research on organizations. We want to bring light to the amazing work that researchers do, and the themes and talks shared at Advancing Research push our craft forward.
Rosenfeld Media: What excites you about research and/or research operations?
Ned Dwyer:
Research teams, in many organizations, are still getting their foothold. There is so much opportunity to continue to communicate the impact of research, get more folks involved with research and easily include research in every decision.
Rosenfeld Media: What types of value and benefits do you/your product bring to the practice and our community?
Ned Dwyer:
We are the only unified platform that automates every tedious part of the research process. With Great Question, you can build and manage a panel, schedule and conduct qualitative research, send incentives, and analyze, synthesize, and share insights in one place. Customers like Brex, Auth0, Figma, and Nurtisense can conduct more research faster, get more teams involved in research, and scale research like never before.
Rosenfeld Media: What else should our community know about you?
Ned Dwyer:
We're on a mission to democratize research by building the easiest to use platform, making it so easy to do research, anyone can do it.
View Great Question's sponsor page for their scheduled sponsor activity sessions and more.