Meet Sofia Quintero, Founder and CEO at EnjoyHQ
February 9, 2021
We are lucky to have so many wonderful sponsors of this year's Advancing Research conference–and we thought you might like to get to know them better! We've asked all of them some questions that get at the heart of why they're passionate about user research and ResearchOps, what it's like to work with them, and what makes their products and services special to research professionals.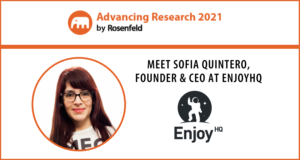 Rosenfeld Media: Why are you sponsoring this year's Advancing Research?
Sofia Quintero: 2020 was a year of profound changes for organizations of all sizes and sectors. Design and Research teams had to learn to operate in a world that changed overnight, they had to discover not only better ways to work together but also better ways to understand the impact of COVID-19 on customer's behaviors. Advancing Research 2021 is a magnificent opportunity to share what we learned as an ecosystem and build a common understanding of how to move forward successfully in 2021.
Rosenfeld Media: What excites you about Research and/or Research Operations?
Sofia Quintero: 2021 will be one of the most exciting years in research. Digital adoption has taken a quantum leap at both the organizational and industry levels and ResearchOps is now at the center of any digital transformation. Now more than ever organizations need to build capabilities that can help them survive and thrive in a world that can no longer postpone investment in better digital experiences and customer-driven decision making. There is no going back!
Rosenfeld Media: What types of value and benefits do you/your product bring to the practice and our community?
Sofia Quintero: For many years now, we've seen the proliferation of very specialized UXR tools, each of them with a specific take on technology and workflows that allow researchers and designers to get the job done with precision.
However, most of these specialized tools work in isolation. We need workflows to allow researchers and designers to connect the dots much more efficiently across multiple data sets and platforms.
At EnjoyHQ, our mission is to help product and UX teams worldwide connect all those specialized tools into a single platform that allows them to truly take advantage of the data they are already gathering and improve the quality of their insights, and share knowledge across the organization.
The UX ecosystem is rapidly evolving into a truly interconnected network of insights and we are building the most connected Research Repository in the world to help you thrive in this new reality.
Rosenfeld Media: What else should our community know about you?
Sofia Quintero: We can't wait to meet you! ??‍??
Visit EnjoyHQ's AR2021 page for their scheduled sponsor activity sessions and more.