Meet Jason Kriese, VP, DesignOps at Salesforce
August 3, 2022
We are lucky to have so many wonderful sponsors of this year's DesignOps Summit–and we thought you might like to get to know them better! We've asked Jason some questions that get to the heart of why they're passionate about DesignOps, what it's like to work at Salesforce, and what makes their products and services special to DesignOps professionals.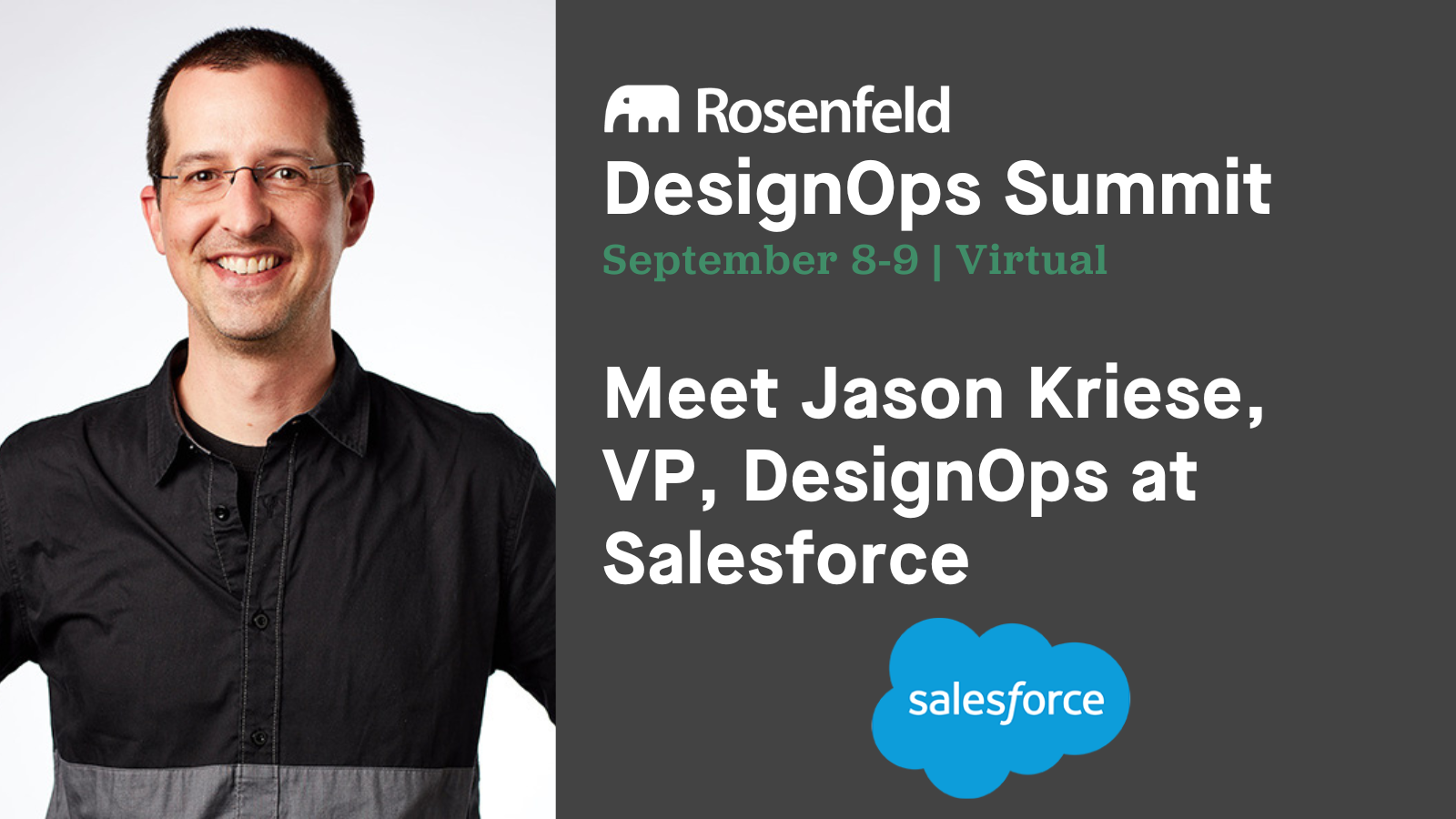 Rosenfeld Media: Why are you sponsoring this year's DesignOps Summit?
Jason Kriese: Salesforce Design is growing as an organization and we know that design ops has contributed strongly to the success of our teams. We're excited to give back to the broader design ops community by sharing our experiences and insights, and by enabling forums like the DesignOps Summit through our sponsorship and support. This community has always been focused on giving back, so we're happy to contribute and be a part of it.
Rosenfeld Media: What excites you about design operations?
Jason Kriese: DesignOps is all about enabling design leaders and practitioners to deliver with quality, consistency, and efficiency. More importantly, however, DesignOps gives us the chance to develop programs and solutions that uphold our values and celebrate the diversity of our teams. I love that we can reliably incorporate values-first leadership into the way that we work together, from the highest level strategies to the smallest details of our execution. DesignOps is at the heart of the design communities that we foster.
Rosenfeld Media: What is the professional experience like for designers and DesignOps people people at your company?
Jason Kriese: At Salesforce, we have hundreds of designers working across dozens of distinct lines of business. For design teams, and for the DesignOps folks who partner with them, this complex product landscape represents an exciting set of relationships to be discovered, navigated, and managed every day. And Salesforce as a company places a priority on relationships, including: relationships within the company, with our customers, and across the industry at large. Designers and DesignOps folks spend a great deal of time building meaningful relationships, so it results in a workplace that's professionally challenging and personally rewarding.
Rosenfeld Media: What is your culture like, who would new employees work with, and who are the champions?
Jason Kriese: Our Salesforce Design teams prioritize proper onboarding. We want you to take the time to establish a strong foundation as you enter the company so that you can build a long and successful career. In addition to robust enablement programs, employees find valuable support in the form of new hire buddies, mentoring programs, social events, and certification programs. And, with so many new designers joining outside of a physical office space, we've built it all to support success from anywhere through tools like Slack, Quip, Figma, and more. Of course, all of these programs require robust planning and coordination, so our design leadership is consistently championing our DesignOps function and growth. With DesignOps behind the scenes, we're excited to welcome even more designers in the year ahead.
Rosenfeld Media: What else should our community know about you?
Jason Kriese: I joined Salesforce seven years ago and I still enjoy (almost!) every day. Of course, the most common question I get is, Why? How?! The answer is pretty easy, actually: The people. I thoroughly enjoy the people that I work with on a regular basis. Of course our DesignOps team is awesome, but I really enjoy my cross-discipline partners, too. Folks here are nearly always kind, helpful, and values-driven. In this type of environment, it's easy to enjoy coming in to work and solving hard problems. Most of all, I'm grateful for the opportunity to be a part of our fantastic DesignOps team.
View Salesforce's sponsor page for their scheduled sponsor activity sessions and more.