Meet Aurobinda Pradhan, Co-founder of Cubyts
August 3, 2022
We are lucky to have so many wonderful sponsors of this year's DesignOps Summit–and we thought you might like to get to know them better! We've asked Aurbinda some questions that get to the heart of why they're passionate about DesignOps, what it's like to work at Cubyts, and what makes their products and services special to DesignOps professionals.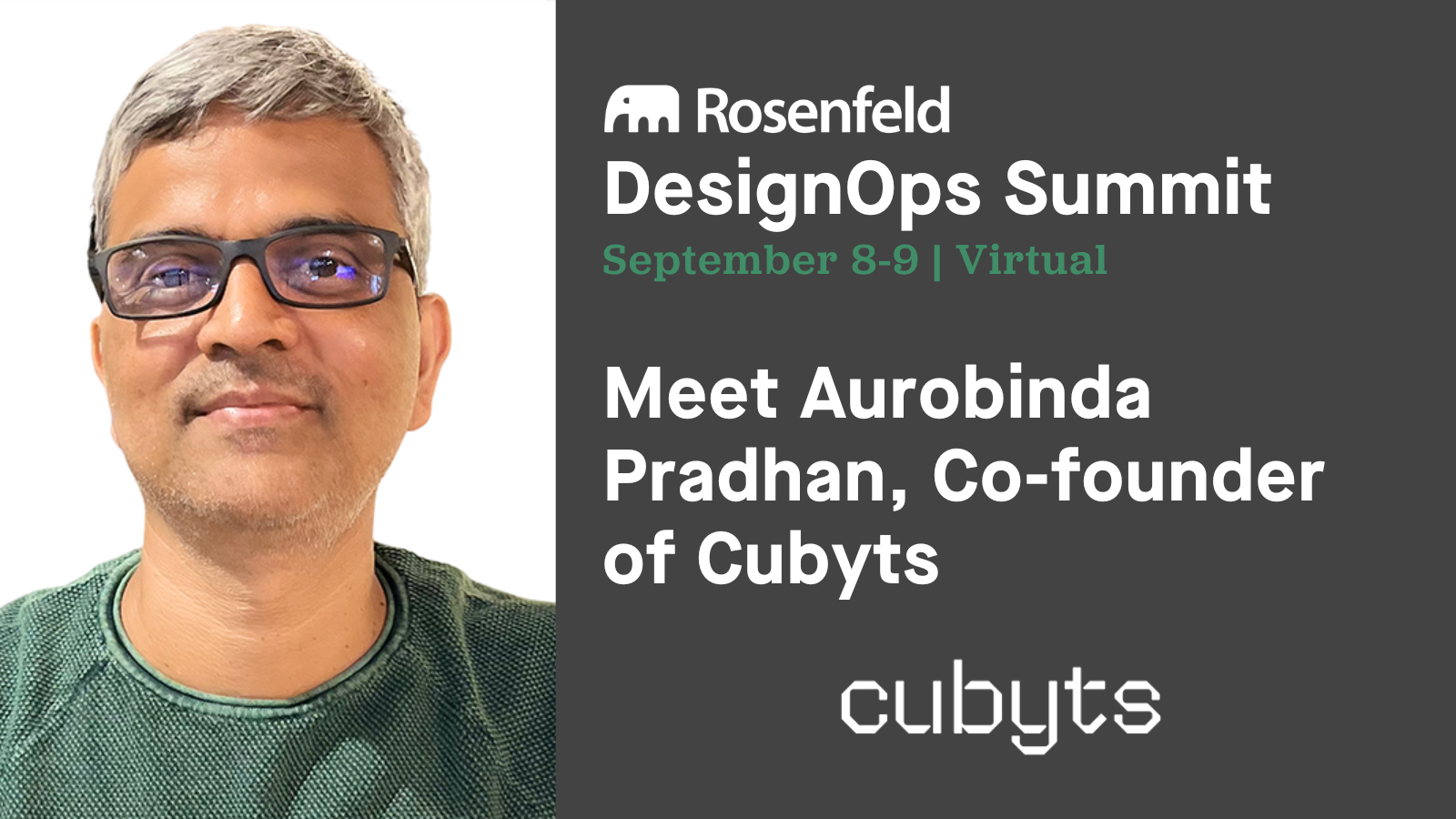 Rosenfeld Media: Why are you sponsoring this year's DesignOps Summit?
Aurbinda Pradhan: Cubyts is a platform that helps design stakeholders solve the operational challenges of scaling design teams. And what better place than the DesignOps Summit 2022 to meet some of the biggest names in DesignOps today and understand their operational challenges?
We are very excited to present Cubyts to this esteemed group of people that are responsible for driving user experiences of some of the world's most used digital interfaces today.
Rosenfeld Media: What excites you about design operations?
Aurobinda Pradhan: We are witnessing tremendous growth in the design space. Managing the chaos that comes with the rapid scaling requires some level of standardisation in processes and frameworks.
When the development industry was going through this phase, DevOps tools & framework helped to manage, orchestrate & scale product development & deployment. Similarly, DesignOps will be instrumental in streamlining design teams in their growth journey.
We believe that DesignOps is now integral to product development and will continue to impact the future of meaningful products.
Rosenfeld Media: What types of value and benefits do you/your product bring to the practice and our community?
Aurobinda Pradhan: Cubyts is a DesignOps platform to manage, codify & scale DesignOps. It helps design leaders and managers in
Streamline design operations
Efficiently allocate and manage design teams
Create and reuse a repository of design artefact, processes & best practices across projects
Track design metrics
Rosenfeld Media: What else should our community know about you?
Aurobinda Pradhan: Cubyts' founders have a combined experience of 75+ years in design and product management. While building Cubyts, we have interacted with 100+ design leaders and managers to understand their ops issues. Cubyts is the manifestation of our understanding in the form of a DesignOps platform.
We launched our private beta in May 2022 with 100+ Trial customers across 12 countries so far. We are going live by the end of August 2022.
View Cubyts' sponsor page for their scheduled sponsor activity sessions and more.