Meet Marcelo Marfil, Chief Design Officer at Sketch
July 26, 2022
We are lucky to have so many wonderful sponsors of this year's DesignOps Summit–and we thought you might like to get to know them better! We've asked Marcelo some questions that get to the heart of why they're passionate about DesignOps, what it's like to work at Sketch, and what makes their products and services special to DesignOps professionals.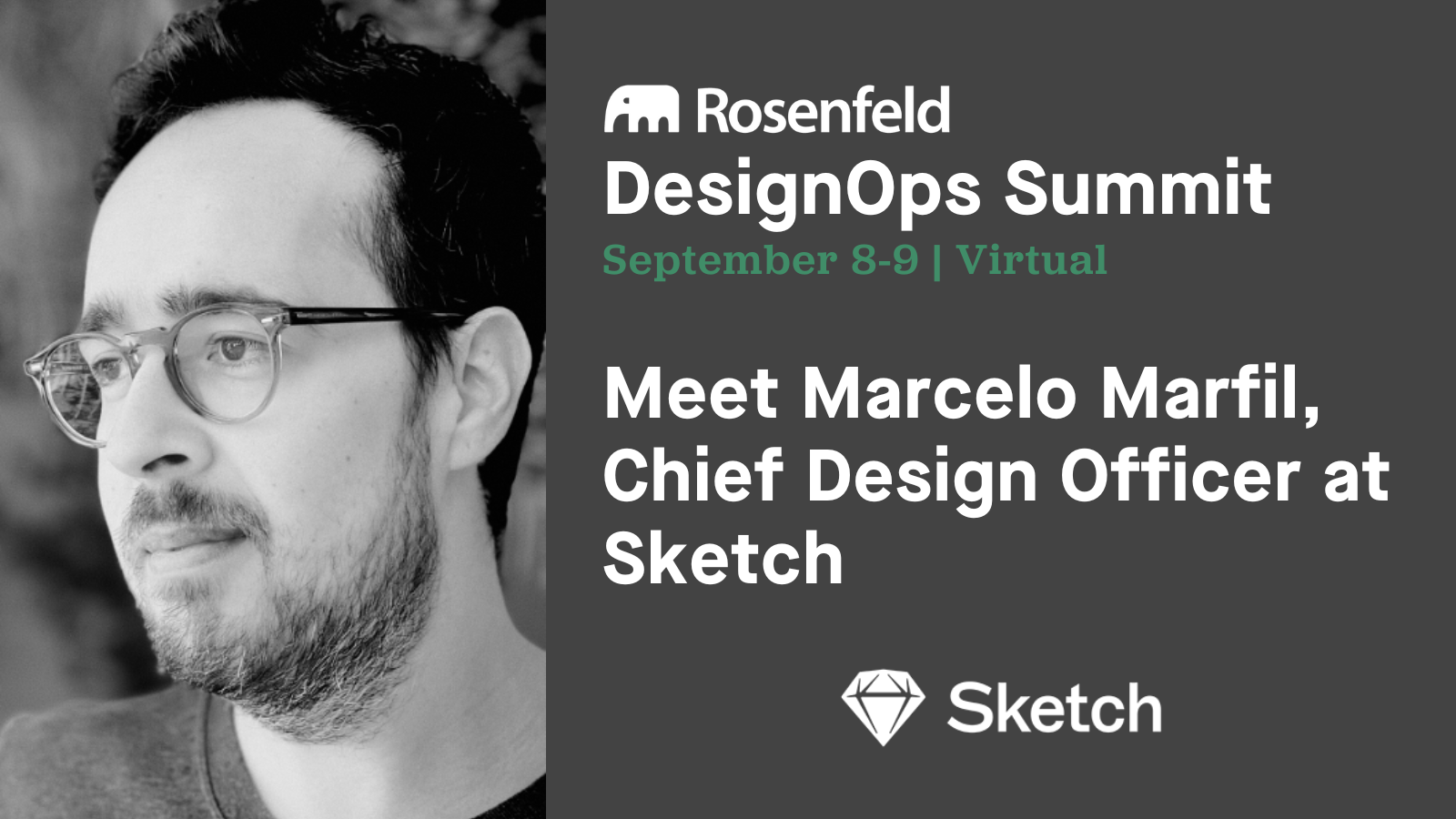 Rosenfeld Media: Why are you sponsoring this year's DesignOps Summit?
Marcelo Marfil: We wanted to team up with DesignOps because we have common goals around inspiring and empowering designers. DesignOps provides a space where talented designers get together to discuss all things design with the goal of taking the industry forward. At Sketch, we take pride in doing the same — so we're excited to partner with DesignOps on this.
Rosenfeld Media: What excites you about design operations?
Marcelo Marfil: I have always been enthusiastic about design and platform standards myself — and it's something we embraced early on and care about so profoundly at Sketch.
Our product is available across various platforms. Making it scalable, providing a streamlined experience, and yet remaining consistent are only possible because we make design operations a core part of our values.
So much that, literally, we get to be both makers and customers in this business. It's a fascinating win-win dynamic because everything our customers need, we also need for our team.
Rosenfeld Media: What is the professional experience like for designers and DesignOps people at your company?
Marcelo Marfil: Our DesignOps department at Sketch is responsible for creating and updating the guidelines our designers and developers follow to maintain consistency across our design systems. They will work with the relevant teams to ensure that these guidelines are suitable and that the team understands them.
But that's not a unilateral relationship. Even though DesignOps is responsible for the whole operational structure of our design systems, designers and developers contribute to it on many levels. — whether by pointing out ideas for improvements or working with the DSM to implement components related to specific projects product designers are working on.
We have processes to ease these flows and dedicated Slack channels where anyone in the company can ask questions, make suggestions, and communicate significant changes — so that everyone will be aware of anything that affects a project they're working on.
Rosenfeld Media: What is your culture like, who would new employees work with, and who are the champions?
Marcelo Marfil: Our designers not only care for a good product — that's standard here. We live for the craft and the details at Sketch. We have a responsibility to our community to shape the design standards and help represent the value of good design: simplicity and cohesion.
Our main goal as a company is to democratize design, and we can only do that if, first and foremost, we bring design tools to everybody. So they can share our vision and inspire even more people with their work and ideas.
We do it by collaborating, discussing, designing, prototyping, creating — igniting and accelerating the innovation process. We also imprint our values, but we always respecting the platforms our apps live on—and the guidelines and standards that come with them.
Rosenfeld Media: What types of value and benefits do you/your product bring to the practice and our community?
Marcelo Marfil: When one thinks of a design system, they might make a direct connection with building blocks or lego pieces that will ensure consistent and automated design processes. While this is true, we believe there should always be space for creative exploration and refinement. There's a long process from thinking, gathering feedback, testing, and iterating before those blocks are ready to be integrated, hence our focus is on building bridges between all design stages — including not just designers but any person involved in the process of creating good products.
A design system is a shared effort, and cannot prosper if it just sits on a design file or a code repository. The key to success is adoption and contribution. Often, the language of all the people involved is quite different — engineers don't need to learn how to use a design tool, and designers shouldn't need to learn how to read a code repository. Our stance here is to offer the best tooling for each occasion while having a unique source of truth.
One can consume or contribute to a design system from the Mac app as a designer, or from the web app as a developer, copywriter or any other stakeholder. Everyone can be on the same page at their needed degree, and contribute together by just being members of the same Workspace. Thanks to the design tokens and our open file format we can also ensure interoperability with other tooling or repositories depending on the team's needs — or configure their files so they can confidently distribute the libraries and assets to their selected audience.
By remaining open, not forcing workflows, and not caping creativity while offering reliable distribution systems with version control, we can stay true to our motto when it comes to design ops: provide designers and non-designers with a source of truth for all design elements they can use, maintain, share, and communicate reliably.
Rosenfeld Media: What else should our community know about you?
Marcelo Marfil: I got into product design almost by accident. I started as a graphic designer in 2004, and that's what I thought I would do for the rest of my life.
But then, in 2007, Apple introduced the first iPhone. I fell in love with it. I had no idea back then, but that would change my life forever.
My design agency job was still paying my bills, but I wanted so badly to feel part of this new and exciting ecosystem. I started to look around on the web and found this forum called MacThemes. It was full of people like me: excited about it too, designing custom OS themes, icon replacements, wallpapers, and so on.
As a hobby, I started creating my own stuff and sharing that with the world — and by "world," back then, it was pretty much within MacThemes and Twitter. A small but vibrant community.
This hobby naturally became a profession at some point, and I quit my old job to join this mostly unexplored new world. When Apple unveiled the App Store in 2008, the same designers and indie developers transiting through that forum became entrepreneurs with their own ideas.
Since then, I got to work for numerous independent developers and organizations to bring products to millions across earth.
In 2016, I joined Sketch as one of the first designers after Emanuel Sá and Chris Downer, and had the chance to apply a lot of what I learned over those years. Fast-forward to 2022, I'm the Chief Design Officer of the company, leading our outstanding team of around 20 designers.
View Sketch's sponsor page for their scheduled sponsor activity sessions and more.