Meet Indra Klavins, Director, Design Operations at Verizon
October 12, 2020
We are lucky to have so many wonderful sponsors of this year's DesignOps Summit conference–and we thought you might like to get to know them better! We've asked all of them some questions that get at the heart of why they're passionate about design operations, what it's like to work with them, and what makes their products and services special to design operations professionals.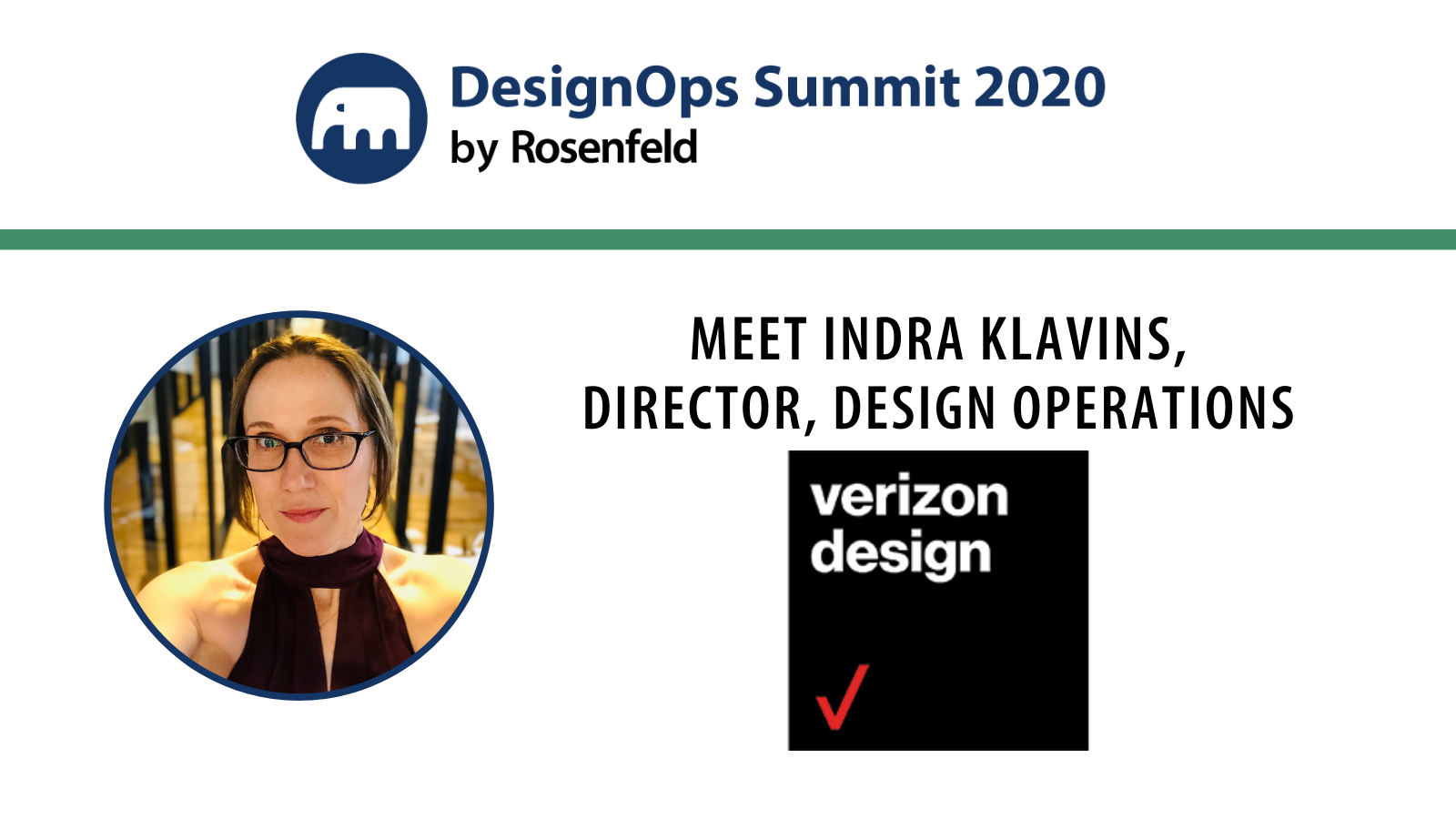 Rosenfeld Media: Why are you sponsoring the DesignOps Summit 2020? 
Indra: I left the DesignOps Summit in 2017 knowing that I found my wonderful, generous, inclusive tribe, a tribe that I wanted to give back to as much as I could. In 2019, I was lucky enough to be a speaker, sharing my learnings with my tribe. And this year, I am able to contribute in a new way as a sponsor, providing an additional forum for people to connect and talk about our craft of Design Operations.
Rosenfeld Media: What excites you about design operations? 
Indra: The members of the Design and Research Operations community are the people who enable great things to happen. We are the helpers who do the not so glamorous essential work that allows others to do their work. What we do is often invisible, but has such a broad impact. Knowing that my team and I get to make that kind of impact every day is incredibly satisfying.
Rosenfeld Media: What is it like for Design and Research Operations people to work at your company?
Indra: We're a new, rapidly growing team that (using Agile terminology) has passed the storming phase and is now forming. The foundation is set, but we're still shaping what will be built upon the foundation. It's a really good environment who like to see platforms and processes take shape and then identify additional platforms and processes that would be beneficial to standardize on.
Rosenfeld Media: What is your culture like, who would design employees work with, and who are the champions?
Indra: The Verizon Design Operations team has two complimentary mottos for the team that articulates our team culture well. "Through the storm!" This motto can be used when times are tough. It's a call to arms. It's a reminder that even if the weather is rough, we will make it through, together. "On a clear day." This one reminds us that life is not just filled with storms. When we do have those clear days, we need to savor them, enjoy the peace and all that comes with it. By holding true to these two mottos, the people and teams that we support have advocated for the funding that has allowed us to scale as quickly as we have. These Design Ops champions include our Head of Design – Richard Dalton, Executive Director – Brendan Reynolds, SVP of Customer Experience – Geoff Walls and even our CMO – Diego Scotti who we won over during the rollout of Slack earlier this year.
Rosenfeld Media: What else should our community know about you?
A personal mantra that I find useful both at work and in life is "I do what I can when I can." This mantra helps me find balance and allows me to forgive myself for not getting to all of the things that I wanted to get to, have the conversations that I wanted to have, or help all of the people that I would like to helped.