Meet Eddie Ishak, Head of UX Financial Products at Bloomberg LP
October 12, 2020
We are lucky to have so many wonderful sponsors of this year's DesignOps Summit conference–and we thought you might like to get to know them better! We've asked all of them some questions that get at the heart of why they're passionate about design operations, what it's like to work with them, and what makes their products and services special to design operations professionals.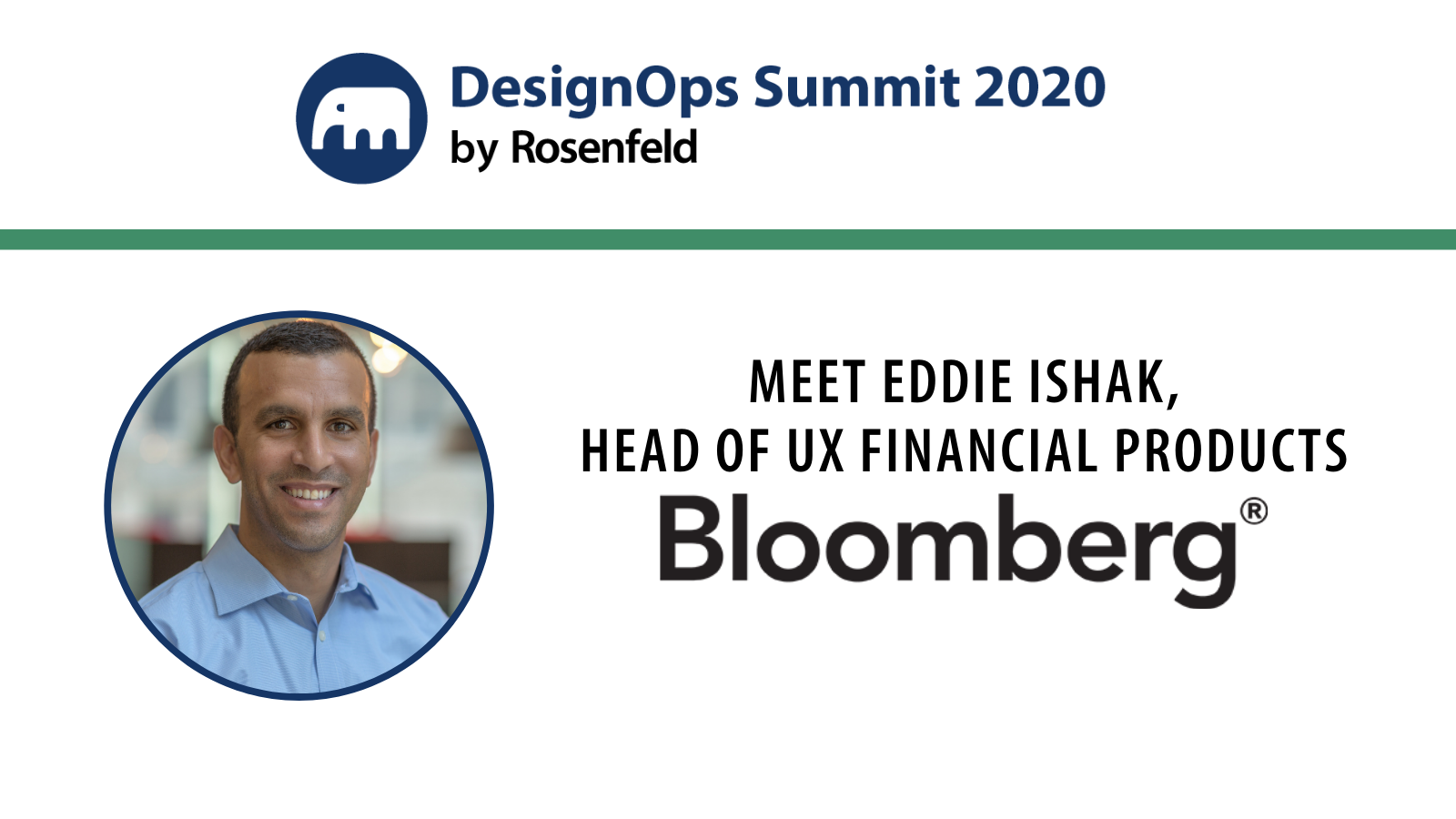 Rosenfeld Media: Why are you sponsoring the DesignOps Summit 2020? 
Eddie: Over the last 15 years, Bloomberg's UX team has matured and honed its approach to the process of design. As we grew, we realized we needed to start developing strategies for managing more, larger teams, while still retaining a cohesive design methodology across many types of projects. DesignOps is a term that's only been around for a few years, but as a large company with a diverse array of cutting-edge design projects, we've been thinking about this for much longer and have a lot to share. We've learned a lot, but we still have a lot to learn from the community, which is why I'm excited we are sponsoring this event.
Rosenfeld Media: What excites you about design operations? 
Eddie: I like being efficient! Our department runs lean, so we are always aiming to do more with less. Operations are such a critical part of that effort, because when we're not increasing headcount, the only way to add more value is to interrogate how we do things and improve our processes and interactions. This year's conference theme is resilience. Since it takes a long time to shift design practices across a large enterprise, we believe the key to resilience is a strong design discipline with baked-in flexibility. Like many other design organizations, we were forced to respond to the pandemic and shift to working from home, and our flexibility helped us to respond quickly with remote work tools and processes. Our ability to collaborate effectively remained constant.
Rosenfeld Media: What is it like for Design and Research Operations people to work at your company?
Eddie: Every day there is a new challenge. Bloomberg is such a large, multi-faceted company that is constantly innovating how it presents data to its customers across many different products, so we are always busy. We think critically about how our design affects business impact. The work is very collaborative, and because we serve the entire company, demand can outstrip supply. This means that even junior designers can have a huge impact on widely-used products and features that our clients use every day. There's no rulebook for much of what we do, so the whole team is collectively developing best practices as we go. That feeling of being at the forefront makes our work challenging, but simultaneously fun and rewarding.
Rosenfeld Media: What is your culture like, who would design employees work with, and who are the champions?
Eddie: Because we have such a tremendous amount of influence across the organization, we have to be able to push through projects quickly, with buy-in from many stakeholders. Fortunately, senior management has placed a lot of trust in the UX team. Even our founders and owners are engaged with the work we do, because they recognize how critical UX is to our business. In fact, Bloomberg's award-winning design ethos has been at the center of the company's product and customer experience since it was founded nearly 40 years ago.
Our team is committed to developing inclusive products that are accessible to all, and this commitment manifests itself in everything from the diversity of our team members to product features. Recently, we have evolved the UX of the Bloomberg Terminal to be more accessible for people with vision impairments. This includes the development of accessibility color schemes for users with Color Vision Deficiency (CVD), as well as upgrading our UI technology to ensure the Terminal is compatible with screen readers.
We are also passionate about engaging with the broader UX and design community. For example, we have an ongoing research partnership with Carnegie Mellon University's Human-Computer Interaction Institute. Many of our current team members came to work for Bloomberg as a result of their experience in that program. Close ties to academia, such as this one, enable us to incorporate the latest research coming out of the classroom into our real-world practices.
Rosenfeld Media: What types of value and benefits do you bring to the practice and our community?
Eddie: We've spent the last fifteen years scaling our practice to a team of more than 100 UX specialists across many areas, including interaction design, visual design, research, prototyping, consistency, technical writing and project management, inside of a mature organization, long before the term "DesignOps" was coined. This scale, and our experience growing within a global organization, gives us a unique perspective. We are able to draw insights from a wealth of case studies and operations projects, such as our building in-house usability labs, large-scale hiring with exponential growth across several years.
Rosenfeld Media: What else should our community know about you?
Eddie: Having a deep computer science background (B.S., M.S., and Ph.D. in Computer Science) I had always had a passion for technology and the way we all interface with it. During my time as a graduate student at Columbia University, I had spent several years designing and building multi-modal and augmented reality interfaces for a variety of different domains, including medicine, archaeology, and government intelligence. Because I had initially very little understanding of what these experts do, I learned quickly that understanding the domain and empathy for the user were paramount before designing their experiences. It was this time in academia that eventually led me to seek User Experience as a profession. After a few small stints developing websites for NYC-based startups, I was led to Bloomberg and hired to design solutions for financial professionals. My technical background allowed me to hit the ground running as I watched us evolve from a small, scrappy, tangential team to the centralized, highly influential department that it is today. I am excited to be able to share a bird's eye perspective of how good UX design practices can thrive inside large organizations.