Meet Prayag Narula, Co-founder and CEO of Marvin
June 4, 2022
We are lucky to have so many wonderful sponsors of this year's Design at Scale conference–and we thought you might like to get to know them better! We've asked all of them some questions that get to the heart of why they're passionate about enterprise design, what it's like to work at Marvin, and what makes their products and services special to enterprise professionals.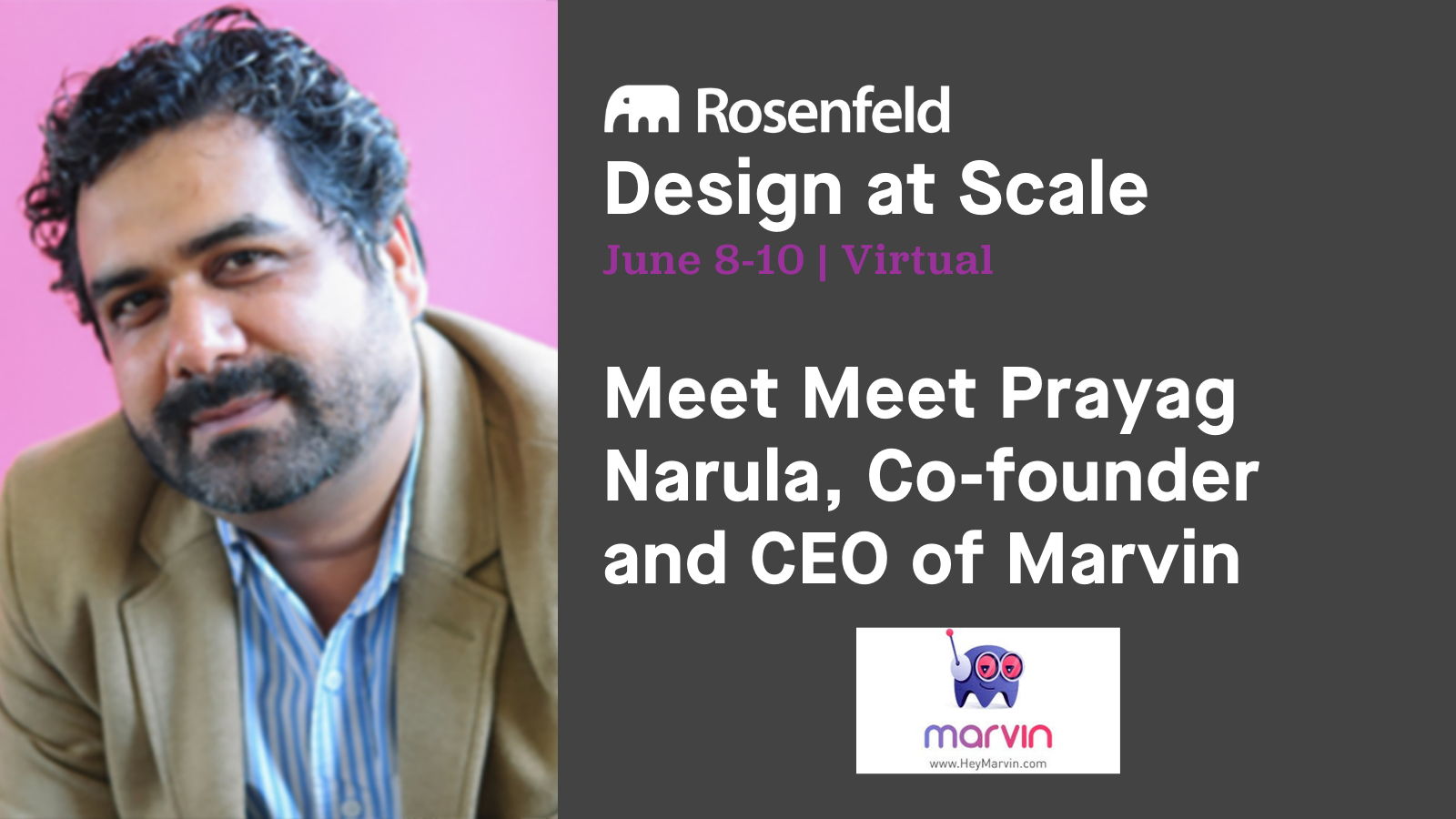 Rosenfeld Media: Why are you sponsoring this year's Design at Scale?
Prayag Narula:
We love partnering with the Rosenfeld community. We want to learn from everyone here while also inspiring design teams around the world to take a more user-centric approach to their research.
Rosenfeld Media: What excites you about enterprise design?
Prayag Narula:
Can you imagine a world in which everything you touch and see is beautifully designed? Apple did, and they completely transformed an age-old industry by designing the iPhone. Other enterprises are finally starting to realize that good design is a key value prop. Most of the things we interact with – our software, our cars, the drinks we drink, the food we eat – it's all built by large enterprises. If every single thing was beautifully designed and functional, it would be a better, more joyful place to live.
Prayag Narula:
We help you connect with your customers and get to know them better. Unlike other user research tools, Marvin elevates the voice of your customers, so you can make sense of their feedback, understand their needs and build products they love.
Rosenfeld Media: What else should our community know about you?
Prayag Narula:
I was trained as a researcher, and I taught user research and product design. Then I moved into sales and marketing for a bit, but I found my way back to this community because I feel so passionate about design and research. We built Marvin because it was the technology we'd always wished we had when conducting user research.
View Marvin's sponsor page for their scheduled sponsor activity sessions and more.