Meet Lada Gorlenko, Head of UX Research at MURAL
May 27, 2022
We are lucky to have so many wonderful sponsors of this year's Design at Scale conference–and we thought you might like to get to know them better! We've asked all of them some questions that get to the heart of why they're passionate about enterprise design, what it's like to work at MURAL, and what makes their products and services special to enterprise professionals.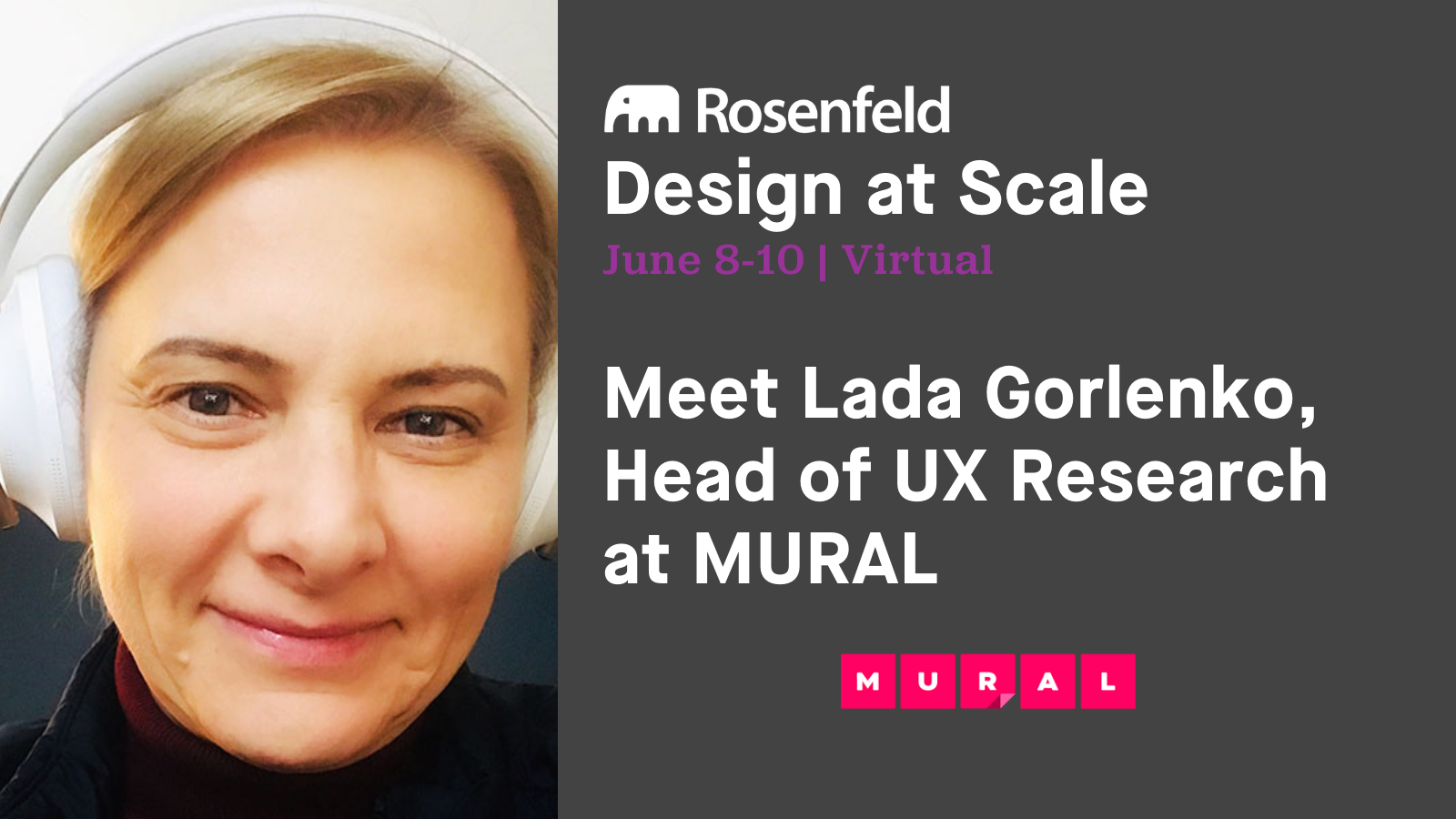 Rosenfeld Media: Why are you sponsoring this year's Design at Scale?
Lada Gorlenko:
Rosenfeld Media thoughtfully curates its events with inspirational leaders from such companies as Cisco, The Home Depot, Wayfair, IBM, Docusign, and many more. It's a great chance to ask them pressing questions, to hear diverse opinions, and to act upon valuable takeaways. With the expansion of visual collaboration solutions around experience design, agile development, and remote work needs, a conference focused solely on design at scale is absolutely necessary, where we can all come together to compare techniques and lessons learned.
By sponsoring Design at Scale, we intend to meet with enterprise brands and account leaders before, during, and after the conference, as well as drive attendance from those in our network interested in learning about the latest collaboration design methods.
Rosenfeld Media: What excites you about enterprise design?
Lada Gorlenko:
Impact and challenge. Let's admit it, the world runs on enterprise. Enterprises have an enormous impact on how we work, what we spend our money on, and even where we live. Designing for enterprises should be an honor, not an oversight. Collaboration is a particular challenge of enterprises, and that is why MURAL strives to make collaboration-at-scale insightful at scale, and impactful at scale.
If you think about it, a lot of problems UX professionals face are collaboration challenges. By supporting Design at Scale, we support UX leaders in fostering meaningful conversations on how to tackle these challenges and sharing best practices across industries.
Rosenfeld Media: What is the professional experience like for designers and DesignOps people people at your company?
Lada Gorlenko:
The MURAL Design team's mission is to ignite the creative confidence of enterprise teams to unlock their genius and help them do their best work together.
We are a global team of designers (product, visual, motion, content, interaction, illustrators and brand designers), researchers, strategists and design ops practitioners fostering a culture of collaboration design and human connection.
Human-centered design is in our DNA and drives everything we do. We are transforming our own team into a world-class destination team, and in doing so, we are helping transform enterprise teams into happy, productive and innovative teams.
Rosenfeld Media: What is your culture like, who would new employees work with, and who are the champions?
Lada Gorlenko:
At MURAL, we believe that we are all imagination workers—people who thrive on collaborating with others from different backgrounds and disciplines to solve problems together. Our platform enables open communication, where people of all races, genders, and orientations feel seen, heard, and valued. Our five core values guide us every day to keep learning, improving, and celebrating how we work. We strongly believe we can all "Make others successful" and this shows up as people taking the time to help others.
Not surprisingly, this people-centric approach stems from MURAL's history in design thinking, which has also shaped our ceaseless creativity. We're constantly prototyping and iterating to come up with innovative features, services, and better ways of working.
Our team invests a lot of time into listening and observing how customers are using our platform to better understand where their pain points lie. Customers interact with our software visually, so human-centered design is of the utmost importance. We are growing our design team in a few key areas so I encourage those interested to visit our jobs page and get in touch!
Rosenfeld Media: What types of value and benefits do you/your product bring to the practice and our community?
Lada Gorlenko:
MURAL transforms how teams work by fostering cultures where everyone is connected, contributing, and empowered to deliver business-driving outcomes. Teams work together in collaboration spaces in real-time and/ or asynchronously with the support of guided methods, facilitation features, and advanced visual collaboration capabilities.
Collaboration spaces amplify the strengths of team members — they don't average them out. Collaboration spaces reduce bias, promote risk-taking, make it easy to play with ideas, reward imagination, and give people the courage to contribute. In the future, we will continue to enhance this space with innovative features and even create entirely new spaces for collaboration.
Rosenfeld Media: What else should our community know about you?
Lada Gorlenko:
MURAL recently acquired LUMA Institute (LUMA), a recognized global leader that equips people to be collaborative problem solvers through the discipline of human-based design thinking. This was MURAL's first acquisition in its 10-year history, and its first step in establishing category leadership to support collaborative intelligence for the new hybrid workplace. LUMA will support MURAL's deployment of the Collaboration Design Institute in late 2022, where the discipline of collaboration design will be taught and learned through self-service curriculum, cohort-based learning, certifications, and communities.
Everyone is welcome to try MURAL for free.
View MURAL's sponsor page for their scheduled sponsor activity sessions and more.