Meet Fahad Osmani, Senior Director of Design at Splunk
May 25, 2022
We are lucky to have so many wonderful sponsors of this year's Design at Scale conference–and we thought you might like to get to know them better! We've asked all of them some questions that get to the heart of why they're passionate about enterprise design, what it's like to work at Splunk, and what makes their products and services special to enterprise professionals.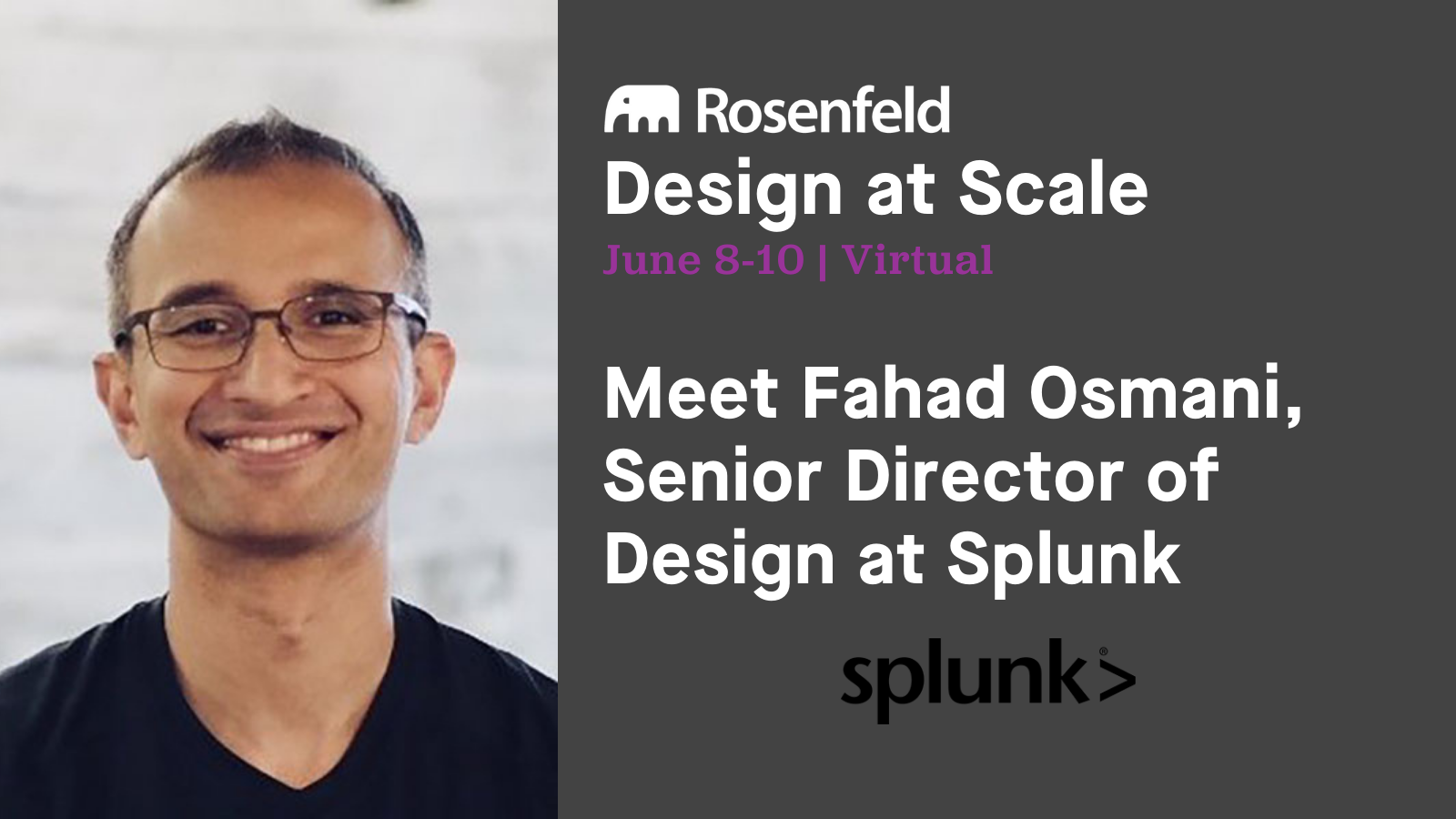 Rosenfeld Media: Why are you sponsoring this year's Design at Scale?
Fahad Osmani:
At Splunk we design for the enterprise IT user. Designing for such a technical user is challenging but also rewarding as the impact is across industries and sectors. Splunk is a growing company, in the last few years we have doubled in size, with that we are excited about the opportunities of thinking more enterprise.
Rosenfeld Media: What excites you about enterprise design?
Fahad Osmani:
Expert users, and scale! These aren't products you're likely to use in your personal life, and they're made for manipulating vast amounts of data. You really have to dig deep to figure out the user's context, their needs, and how to make their life easier.
Rosenfeld Media: What is the professional experience like for designers and DesignOps people people at your company?
Fahad Osmani:
We're a high performing, high trust team that works obsessively to improve the user experience for our extremely loyal and passionate customers, and we care deeply about each other. We are a team of 'full stack' designers where interaction designers also do some research and visual design as well. We have opportunities for everyone, whether you're just starting out, or have lots of experience to share, we'd love to talk with you!
Rosenfeld Media: What is your culture like, who would new employees work with, and who are the champions?
Fahad Osmani:
We're curious! We want to know everything about our customers, their challenges, how we can delight them. In the product organization, designers work with engineers and product managers to envision the best possible experience for our users that can be reliably built and help us take the lead in the market.
Rosenfeld Media: What else should our community know about you?
Fahad Osmani:
Some of our users tell us that Splunk feels like magic. Splunk Design wants to bring that magic to all users, even those who haven't used it yet. Try it out yourself and let us know what you think!
View Splunk's sponsor page for their scheduled sponsor activity sessions and more.