Meet Sina Schreiber, UX Researcher at Condens
February 24, 2022
We are lucky to have so many wonderful sponsors of this year's Advancing Research conference–and we thought you might like to get to know them better! We've asked all of them some questions that get at the heart of why they're passionate about user research and ResearchOps, what it's like to work with them, and what makes their products and services special to research professionals.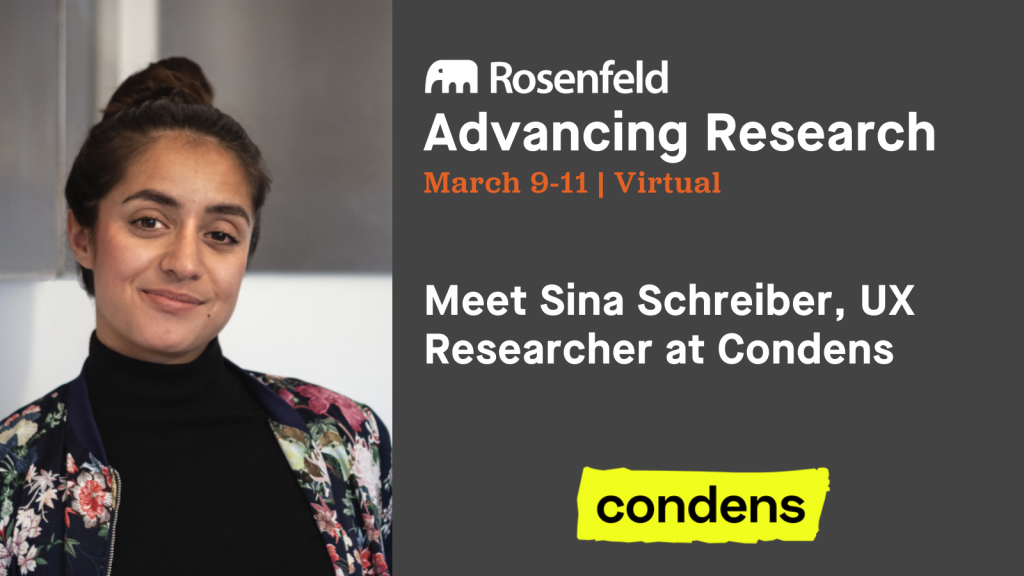 Rosenfeld Media: Why are you sponsoring this year's Advancing Research?
Sina Schreiber:
At Condens, we are on the mission to make storing, analyzing, and sharing research data easier, faster, and more enjoyable. We support research practice by streamlining the research process and allowing researchers to build a research repository simultaneously.
For that, we do a lot of user research ourselves, so we research researchers. At Advancing Research 2022, researchers bring together a conference for researchers, so it's the perfect place for us. We are thrilled to connect with researchers, discuss research practices and current challenges and share what we learned from researching with researchers.
Rosenfeld Media: What excites you about research and/or research operations?
Sina Schreiber
As a researcher with a background in social media strategy and digital transformation, I learned how to engage with people in the development of products and why putting the users in the center will lead to stronger products and superior user experiences. It makes me very excited to drive user research at Condens and to enable better user research for others at the same time by bringing their perspectives into our tool.
I love to see the current push for research and research ops and that its value becomes more and more seen in organizations and impacts more and more strategic decisions. It's exciting to figure out how research practice really can scale, how we can share research findings in the proper context, and to see how ResearchOps can level it all up.
Additionally, our industry stands out with very supportive, inspiring, active, and open communities, and it's fantastic to be part of it!
Rosenfeld Media: What types of value and benefits do you/your product bring to the practice and our community?
Sina Schreiber
Condens brings together three steps of user research in one tool:
First, it allows you to store all kinds of raw data and research evidence like observation notes and interview recordings. It supports many research methods like interviews, usability studies, and user surveys and works collaboratively.
Condens makes your process easier, more enjoyable, and faster when analyzing research data, for example, with automated transcription and affinity mapping.
And it supports you to create research findings and reports and share them with your company and stakeholders. All this happens in one tool, so you don't need to switch tools or copy data back and forth.
While you're working with Condens, you build a research repository at the same time. Having all qualitative data organized in one tool makes it easy for you or anyone in the company to find past research again.
Beyond that, we are focused on continuously contributing to the research community by sharing practice tips from research professionals, offering easy-to-use templates, and compiling helpful guides, like our online meetup and event guide and regularly online events ourselves (next on March 29).
Rosenfeld Media: What else should our community know about you?
Sina Schreiber
Condens started with extensive research itself. Before writing the first line of code, we conducted research with >150 researchers and designers worldwide. Until today research is a central element of our work, and we closely collaborate with customers to improve Condens and empower user researchers.
For everyone joining Advancing Research 2022, we are happy to offer you an extended Condens trial and an individual consultation on setting up a research repository that works for your needs.
View Condens' sponsor page for their scheduled sponsor activity sessions and more.