Meet Sofia Quintero, Founder of EnjoyHQ with UserZoom
January 31, 2022
We are lucky to have so many wonderful sponsors of this year's Advancing Research conference–and we thought you might like to get to know them better! We've asked all of them some questions that get at the heart of why they're passionate about user research and ResearchOps, what it's like to work with them, and what makes their products and services special to research professionals.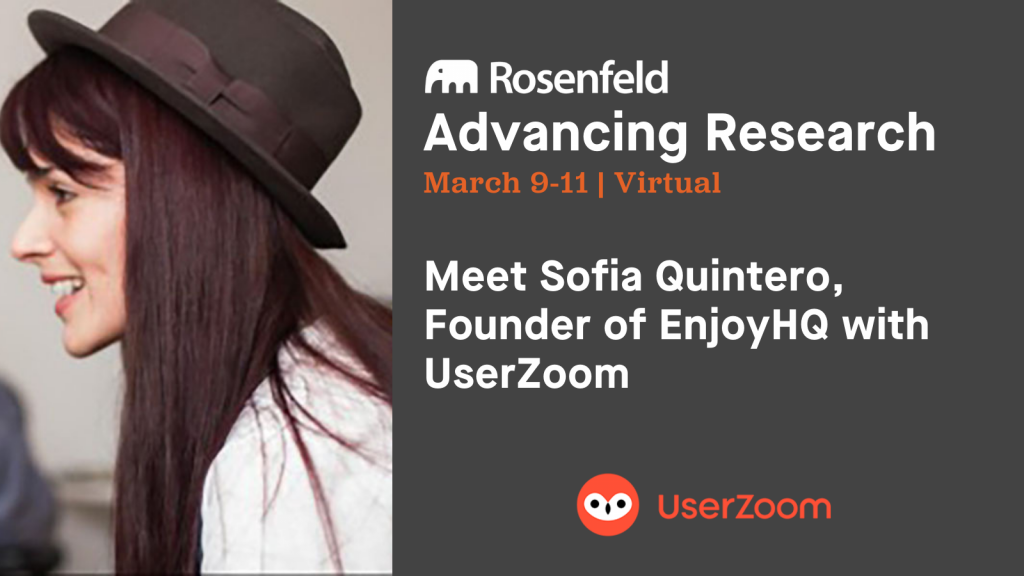 Rosenfeld Media: Why are you sponsoring this year's Advancing Research?
Sofia Quintero:
UserZoom is placed right at the heart of the advancing research industry. As digital experience becomes the primary landscape for customer, brand and product interaction – high quality, actionable insights direct from the user is the fuel that sparks exceptional, user-focused experiences. Confident decisions need high quality insight. And you're only going to get high quality insight with a solution that offers mixed-method research capabilities all on one platform, with world-class consultancy, a high quality participant recruitment engine, and the measurement and reporting tools necessary for researchers to demonstrate business impact. UserZoom is that solution, and we are proud to sponsor Advancing Research to help drive research forward.
Rosenfeld Media: What excites you about research and/or research operations?
Sofia Quintero:
There are many reasons to be excited about ResearchOps in 2022. We've seen an explosion of new tools and a more mature and integrated market that will continue to push for innovation in this area. We've also seen an increased demand for ResearchOps roles which will facilitate the consolidation of the incredible work that has been done in the ReOps community related to building better frameworks to scale research in organizations. There's a growing movement across the industry, with some strong advocates and a clear framework and strategy for increasing the focus and attention on ReOps.
Rosenfeld Media: What is the professional experience like for researchers and ResearchOps people at your company?
Sofia Quintero:
At UserZoom, our researchers have significant opportunities to develop and expand their skills within a diverse and large team. Whether it's our Research Partner team consulting with customers, or our Research Delivery team providing hands-on research services, there is support, mentoring, collaboration and a corporate desire to constantly improve.
Rosenfeld Media: What is your culture like, who would new employees work with, and who are the champions?
Sofia Quintero:
At UserZoom, we're people first. New colleagues get to quickly see how our values play a central part in how UserZoom works. If you were to join us, you'd get support from your line manager, colleagues within your team, our excellent People Business Partners and leadership. Our CEO and Co-Founder, Alfonso, is our biggest champion of a positive culture and he is always happy to have a conversation with new starters and share his experience on building UserZoom.
Rosenfeld Media: What types of value and benefits do you/your product bring to the practice and our community?
Sofia Quintero:
At EnjoyHQ we are excited to bring a fully integrated experience with the UserZoom platform in 2022. This is a unique experience that will help design and research teams of all sizes truly manage their practice from planning to impact measurement. Users will be able to automate the management of insights, increase access and transparency, integrate data sources, and drive more effective and efficient collaboration. Eliminating data silos and redundant work will help you save time and increase efficiency, and ultimately help you deliver optimized user experiences faster and at scale.
Rosenfeld Media: What else should our community know about you?
Sofia Quintero:
We offer training and education via our UserZoom Academy, our free, online place of learning for all, designed to equip UX researchers with the skills and knowledge they need to create better digital experiences, advance their professional development, and promote UX awareness across the organization.
View UserZoom's sponsor page for their scheduled sponsor activity sessions and more.