Meet Prabhas Pokharel, Co-founder & CEO at Reduct.Video
January 31, 2022
We are lucky to have so many wonderful sponsors of this year's Advancing Research conference–and we thought you might like to get to know them better! We've asked all of them some questions that get at the heart of why they're passionate about user research and ResearchOps, what it's like to work with them, and what makes their products and services special to research professionals.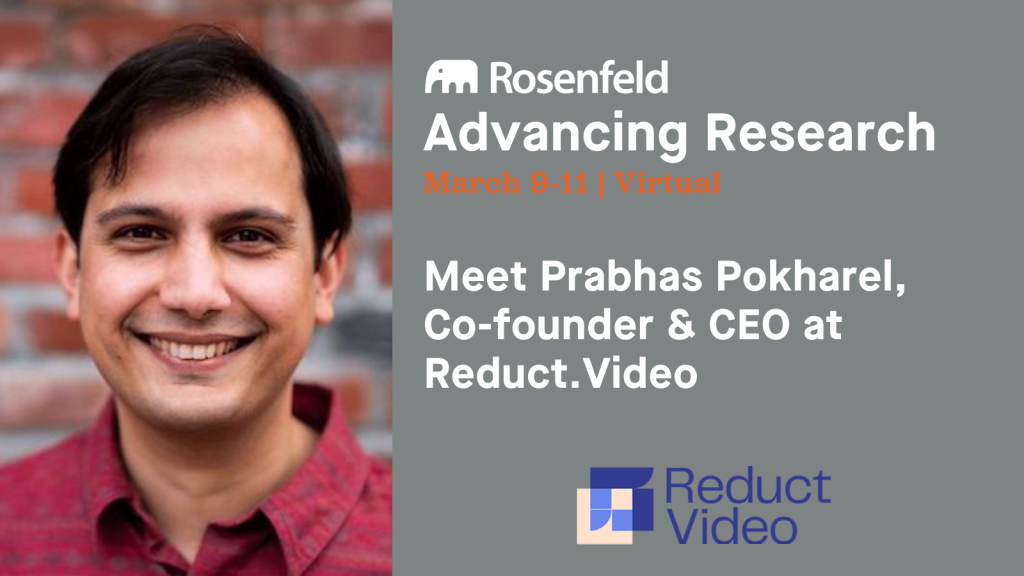 Rosenfeld Media: Why are you sponsoring this year's Advancing Research?
Prabhas Pokharel:
I attended Advancing Research myself before and was incredibly inspired by the speakers and the community Rosenfield created. Despite having so little time to plan a virtual event in March 2020, Rosenfield curated an excellent virtual experience- it was so much fun!
We're super excited to sponsor the conference for the first time this year, and to get to know the community. I'm also excited to introduce Reduct to more researchers and unveil "Videoboard" – a collaborative synthesis tool we've been building.
Rosenfeld Media: What excites you about research and/or research operations?
Prabhas Pokharel:
In the world of business, it's sometimes easy to forget that the products you are building for, the services you're delivering, the people you're impacting – are human beings. Real, in-depth human stories, not just numbers on a spreadsheet, are critical to understanding people. And research is at the vanguard of this work – helping companies understand human beings, and imagine better futures for the complicated, messy, and wonderful people we all are.
That's what excites us to help qualitative researchers uncover and share meaningful human stories that will fundamentally impact business decisions.
Rosenfeld Media: What types of value and benefits do you/your product bring to the practice and our community?
Prabhas Pokharel:
Using video to share research insights is immensely impactful. But the time and effort needed to edit video are also incredibly daunting. That's why Reduct is on a mission to make video easy to work with – as intuitive, collaborative, and accessible as text. Because video is really the best medium to move people in authentic, compelling ways.
Today, research teams use Reduct to create a living breathing repository of their video and audio content. They can surface insights buried in hours of recordings, create consumable videos within minutes, and share them across the entire organization.
When editing, sharing, watching videos about users becomes easy, people embrace it as part of the routines and culture of the organization. This is how you create a more user-centric organization.
Rosenfeld Media: What else should our community know about you?
Prabhas Pokharel:
I founded Reduct after I attended Stanford d.school and fell in love with design research. There is something really special about spending time to understand – really understand – people's stories, needs, wants, and frustrations, and sharing them with others to make our collective work better. Continuously working with incredible researchers and seeing our impact (like this) inspires us every day. Look forward to supporting you on your "advancing research" journey!
View Reduct.Video's sponsor page for their scheduled sponsor activity sessions and more.