Day 2-Using Integrated Insight to Drive Growth
— Good morning. It is a delight to join you all and hear about your world and where it connects with mine
— I will share the journey my team went on to transform our research team into an integrated insights team
Changing our organization from "how we work"  to "what we do"

How we moved from business insights teams providing tactical services to feeling like we were driving the strategic direction of  the BBC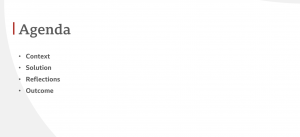 — But first, a bit of market context and business context to understand why we did what we did
— In 2017, we were given approach to reshaping and developing team at BBC World Services
I'll go through our proposed solutions

I'll also go through the pitfalls and reflections on what we did right and where to improve

I'll also have reflections on what I'd do differently
— Then  I'll discuss the benefits of these changes to the team, the people in it, and the outcome for the BBC as a whole.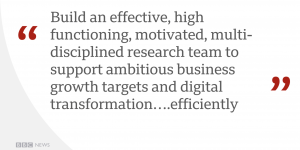 — Our vision was as follows: Build a multi disciplinary team to help BBC achieve ambitious growth targets, and transition our operations to a digital world
This all had to be done optimizing for efficiency in our existing services
— The big question was: How to achieve  that transformation when you only have nine people, and a budget less than 1% of a division of 3,000 people
— But first let's begin with where we started and what caused the need for change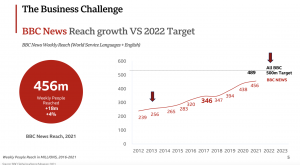 — The BBC set out ambitious growth targets of reaching 550 million people by the BBC centennial celebration in 2023
— Where would this growth come from? Who would be our users? What would they want?
Traditionally our audiences were tv and audio, but growth would clearly from digital content where there was both fierce competition and different audience habits
— Our team was small, data limited and not prioritized, our research potential was not understood. And in a large, established organization like the BBC ,it was hard to pitch for funding
The assumption was that the digital future would minimize need for research, without expensive specialist projects

Investment resources were typical made for editorial content, and improving content
— The business was not set up to think about innovation and growth funding for a broad variety of teams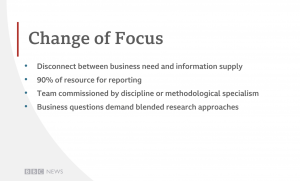 — Our team was great and committed, but there was a disconnect between business need and actual information supplied
We were not investing time or project budgets in the right area

Our main focus was on tactical queries or performance reporting

The remaining time was spent arguing with stakeholders about the reporting
— The structure of the team was suited to larger headcount and we were organized according to reporting specialty, while our sub-teams were siloed into teams of 2-3 people delivering qualitative research and quantitative insight
— Research plan was driven by reporting  methodology rather than business need
Clear need for broader methods for our projects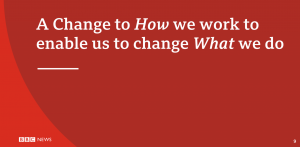 — A new model for how to work needed to be created, which would allow us to pitch for more reputations and resources
Solutions came from new approach on how we commission and undertake projects, and allocate resources

Rather than structure to allocate workflow
— Based on my prior role at Center Office for Information, I shifted our team from a task based approach rather than a team-based one
We also commissioned work at multiple skill-levels and skillsets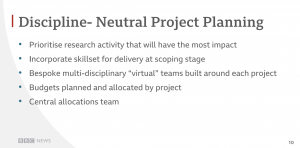 — We then reviewed business priorities to see where research could drive particular impact
We'd consult with stakeholders across the organization, but would prevent them from handing over a shopping list, and capturing priorities for year
— We would then scope and define research objectives, then allocate a virtual team
The team had a blend of expertise, which led to far more creative approach and brings us closer to the audiences we serve
— Budgets were allocated by project, and scale/scope of work, rather than assessment of how much to spend on a particular type of work
This has improved capacity planning across the year, and helped us solve key business questions

Commissioning projects across multiple regions, and kinds of content
— Short-term requests are managed via allocation team, and requests measured against an annual plan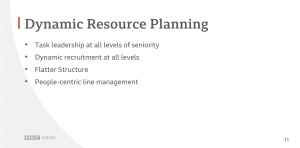 — Right disciplines now lead the project, not the most senior person. This enables all members to develop leadership skills
This can introduce new skills and provide a balance of expertise across the team
— This enables us to remain within head-counts, and we don't need to include specialists for brand new disciplines
Manage is to coach and develop direct reports, which creates line management oppotunties without having them wait for an opening for promotion

It also supports BBC diversity commitments and more flexibility with the team
— As with any change program, there were transition challenges with this approach and staff push-back
— What helped was the shift of emphasis to proactive planning. Instead of firefighting, it felt like stepping away to get a better view of serving customers
People wanted to have view of scenarios that were avaiable
— There was also a fatigue of change, given prior restructurings
Fear of being given too much work, and being overloaded

Managers also felt like they were losing status and control, as they liked being in charge of  the delivery team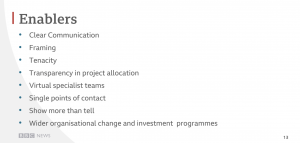 — What helped us? First, clear communication is important to keep reinforcing the benefits of the change, and to show-case examples of what was working really well
Framing was interesting, as making the effort about future-proofing and remaining relevant was a good source of motivation
— There was also tenacity and energy in pushing the changes forward
— We found the project allocation process needed to be transparent for the team. After experimenting, found allocation given by team leads and managers to ensure clear collaboration across management team
By being part of this allocation process, managers regained status they lost
— Waiting for allocations meeting often slowed down our response
To speed this up, came up with decision tree for day-to-day use to consider work that needed to be triaged vs. a straightforward request vs. a long-term project
— We also found a way to meet the desire of stakeholders for a dedicated research team/person for a specific market or platform.
Found go-to person who worked as an account manager for business's built virtual teams that have expertise or interest in different disciplines

Proof of concept was in delivery, and concentrated on delivering to model rather than trying to document all details
— Ability to pitch for reinvestment budget for year one, and adopting principles into new process
Team felt the benefits of change quickly
— Service also accelerated digital transformation in 2017, and model was expanded to the marketing team,
This created change across the organization as a whole, and galvanized us to work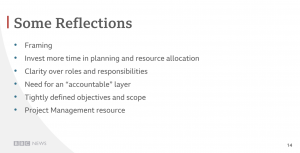 —  So what to do different?
With any change or transition, relay to staff that change isn't happening to them, but that staff should drive change they want to see.

This would have been useful for me, as it lets people take ownerships of challenge and solutions

We needed more time to plan and allocate resources, and getting communication right

We found that junior members were doing same work as manager for less money— so needed clear roles and responsibilities for someone more senior and one with less experience

Accountable layers for each project teams

Our project suffered from scope creep, becoming too unwieldy or taking too long

Added project management support to let key milestones be met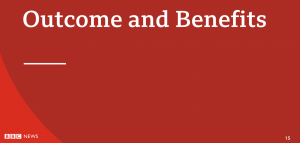 — So what were the outcomes and benefits?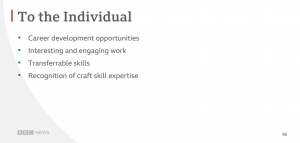 — More career development opportunities in the org, and job satisfaction improved as work stayed interesting
Team developed transferrable new skills
— Tailored training and development needs to the team
— Team members all gained leadership experience without being promoted to management roles
For those who don't want to move to people management, this enabled us recognize craft skills of senior individuals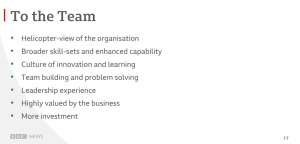 — For the team, we had the benefit of a helicopter view of the business:
Taking ownership of audience narrative, and more confidence in presenting data to stakeholders

Much closer to business cycle and business planning as research is integrated into business action like product and editorial

Team has developed multi-disciplinary skills, and recognize disciplines to solve business problems

Became more valued source to the business. Created culture of innovationa nd learning within the team, and lets us work on problems

Improved staff retention

Investment in team increase four-fold, and less vulnerable to cost-cutting and being outdated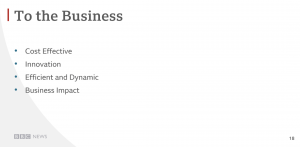 — For the business, we had the following benefits:
It was cost effective, expanding to a new approach enabled us to free up 25% of total budget to focus on research projects, rather than headcount

Saw truly innovative thinking on solving a business challenge, and won industry awards for proejcts

Responded to evolving needs of the organization, without having to restructure ourselves

Efficient and dynamic decision making

Able to contribute to decision making for the business
— We have the capability to tell world service what to do, rather than just tell them what the audience thinks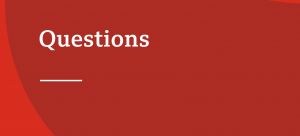 Q&A
How did you get buy-in for discipline agnostic delivery model?
— Within the team, it is quite tricky. I would say that mantra was digital transformation and  there was a sense that digital skills had better career opportunities
The transformation was a chance to bring groups together, allowed people to value these skills, and transfer capabilities from one team to another
How did you handle changes in strategic priorities during the year?
—  News organization priorities can change very quickly
— We are confident that our work-slate and main core is something that adds value longer-term
We add value to business and we are thinking of what we need to do to get strategic growth through the business

Having tactical resource and budget for the group allows us to provide tactical information
Can you tell us about the decision tree?
— Simple decision tree where someone comes and asks a question
Putting every request form stakeholder into allocation group. This was not sustainable

Box with arrows with goal of following critical path

Classifications include: Is it something we were working on, just get on and do that work, something immediate triage team, items stakeholders could work on themselves
How well were stakeholders in design/delivery aligned with approach?
— I think if we tried to align with stakeholder there would have been pushback
Situation of hamster wheel where you don't have resources, but facing stakeholder demands beyond those resources
— We did transformation in spite of changes, and focused on making research team do differently, with goal of improving quality of research coming out
Once stakeholders saw increased quality, they didn't push back
— It wasn't all about as working as a team. Also made changes to things like self-serve data to make data provided easier to access and manage capacity within the team, rather than a request response unit.