Day 1- What Does It Mean To Be a Resilient Research Team?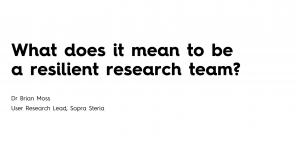 — Thank you for taking time to come along today
— I will spend 25 minutes discussing what it means to be a resilient research team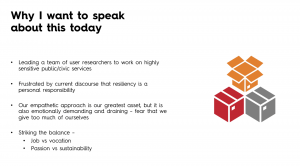 — Let me contextualize my own role, as the manager of UXR team of 12 dedicated researchers
As UXRs we are advocates for the user, and our user groups are those surviving homeless trauma, and abuse
— We are working within a digital platform, which transcends the traditional confines of digital research
Our empathetic approach to care and attention is our greatest asset
— Own role as research lead is  that we give too much of ourselves to these projects
We need to strike balance between job and the vocation

Passion for work vs sustainability of work
— Resiliency has gotten a lot of attention, but use of the word is billed as personal issue instead of a systematic work
Resilience is not just psychological resources but matter of nature and nurture
— Nurture on what we learn and on the way we learn. We do a lot to protect user groups, but we need to apply that protection to ourselves
— So I'll discuss measure we've implemented and what worked and what has happened
Goal of bridging theoretical work and practical action: "More systematic investigation of factors that shift resilience at work is critical"

If this presentation sparks conversation, it's a success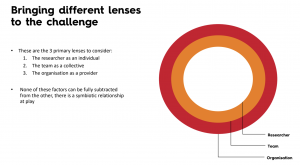 — Three primary lenses to consider and discuss
 The Researcher: Individual

 The Team: The Collective

 The Organization: Project and Resiliency Measures
— Many people have spoken about resiliency at individual work, but will talk bout team as collective and measures in place
— Will talk through the idea of the org as a provider lens to clarify what's going on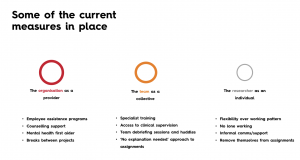 — I'll begin with sharing measures in place with the team I'm involved with, and to discuss team experiences with three lessons
— For our organization we have:
Measures like counseling support, employee assistance program (legal and financial advice), Mental health and First Aid (Additional Responsibilities), Set breaks between projects to have people space where they can decompress and take a break
— For our team
Implementing trauma informed design, and access to clinical supervision with full professionals, agile team events with debriefs and huddles, 'no explanation needed' approach to assignments where subject matter is discussed with research team before it starts, diverse research team
— For our researchers
Flexibility in work patterns to let people accommodate their schedules

No solo-work, given our engagement with members of public. We always work in pairs and share advice

The ability to remove ourselves from assignments, with no explanation required to remove ourselves for a project. Don't want researchers wanting to step back

Constantly learning and we are far from perfect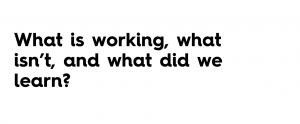 — We have these measures in place, so what's working and what isn't, how can we think about next steps, and how to rectify it accordingly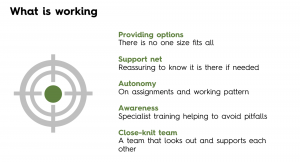 — Let's begin with the positives
We provide options to accommodate different ways of working and being

A support net reassures us to know that it is there if we are needed

Autonomy with our team and making sure people are fine with arrangements, and they are given the space to do their job, and understand it

Awareness and specialist training to help avoid pitfalls

Our  close-knit team is fortunate to work with each other, and value of that can't be understated.
— Still there is a cost to be acknowledged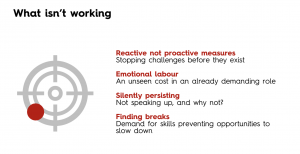 — In terms of negatives, what doesn't work for us is as follows:
Our approach is reactive not proactive

There is emotional labor and unseen cost with already emotionally demanding role, example of balancing tension between empathy and own health

Silently persisting with work even if uncomfortable, and fear that spaces to raise concern are not available

Finding breaks for the research and creating opportunities to slow down and taking a breather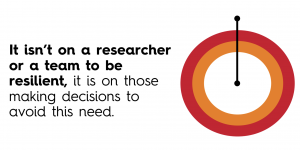 — Things point to theme of making decisions to avoid need for resilience
Teams and orgs need to pick up slack before  emphasizing resilience on the individual level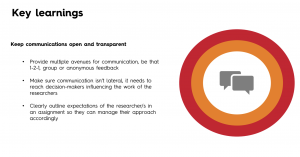 — For communication: Keep communications opens and transparent
Can be one-to-one,

UXRs need to feel like they can speak up and provide feedback

Communication is not just amongst team, but can got to decision makers

Needs to be effective and learned from next time.

Researchers need to have clear expectations for the role, and what needs to be done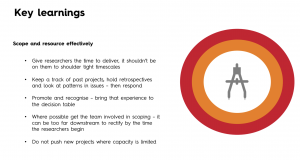 — Provide the researcher or team the resources to be resilient
Give researchers time to deliver, especially with tight deadlines

Keep track of past projects, and look for potential blockers down the line

Also require independent reviews  to hold the perspectives and respond

Promote and recognize need for expertise to the decision table

Get team involved in scoping, as poor scoping leads to problems down the line

Don't rush new project when capacity is limited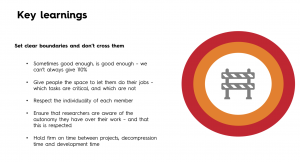 — Set proper boundaries
Sometimes good enough is enough, and we can't give 110% all the time

Look at patterns and projects for peaks and troughs, and find a space to step back and share patterns with junior members of the team and allowing it to be oaky and to take the break

Be transparent about what's learned and honesty about what to prove

Have clear knowledge of what tasks are critical, versus nice to have

Clearly mark out as what relieves pressure from the research team

Let introverted members work at the pace they need

Respect individuality

Give people  options, spaces, and needed support structure

Ensure researchers are aware of their autonomy

Be clear about decompression times, and that they shouldn't jump into a highly sensitive topic. Let them have space to do their job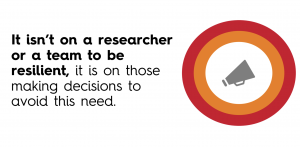 — I've gone through a lot, but please share what works for you
— It is not on the team or researcher to be resilient, it's on making decisions to avoid this need
Constantly changing and systems or structures need to adapt
— Important to create opportunities to speak to this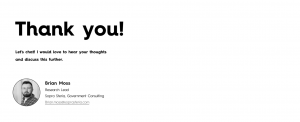 — Thank you to Rosenfeld Media for letting me speak today, as well as the colleagues I work with.
— I hope you take something from it
When job seeker is interviewing, how do they detect  the nurturing nature of the organization?
—> Ask for chance to ask other members of team about their lived experience with the project, and it gives you a chance to learn through them
Examine situations where preferences and past experiences that people in group are homogeneous?
—> Haven't encountered that situation yet. Have large and diverse team, and different expereiences that hasn't come up yet
Any resources on emotional labor?
—> Main one was Leah Collin's TEDX Talk and that will be shared in the Slack channel
Is the culture standard or something that had to be modeled by the UXR team?
—> Something that I brought in, and had space to change space and associated team
What does it look like to take time for a project?
—> I set expectations of three days off at minimum
Idea of a hybrid model involving contractors to expand capabilities?
—> Yes, we have brought in contractors for fixed roles, and have gone back to turning down projects, and felt that contractors would be more transactional