Meet Ash Brown, Global Head of Bloomberg UX
March 8, 2022
We are lucky to have so many wonderful sponsors of this year's Advancing Research conference–and we thought you might like to get to know them better! We've asked all of them some questions that get at the heart of why they're passionate about user research and ResearchOps, what it's like to work with them, and what makes their products and services special to research professionals.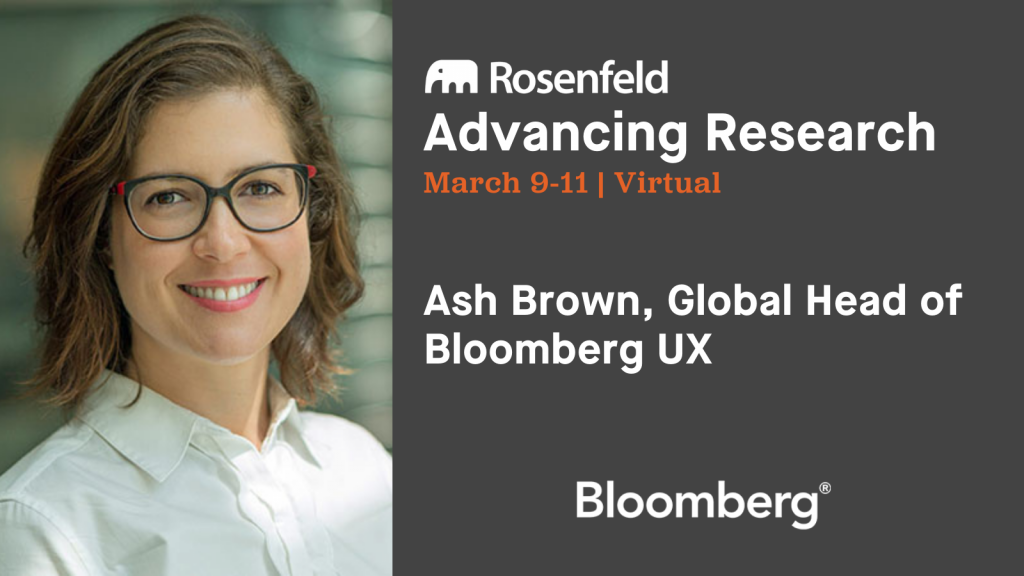 Rosenfeld Media: Why are you sponsoring this year's Advancing Research?
Ash Brown:
Because we love research! Bloomberg UX has always made research a priority and an integral part of our design practice. The last two years have been some of the busiest for our research practice, thanks to new engagement and deployment techniques.
Before the pandemic, our on-site UX labs in our New York and London offices were solidly booked. This was complemented by on-site research with our clients at their desks. During the pandemic, we made an incredible pivot to virtual research labs and saw some unexpected benefits: we more than doubled the number of research sessions and were able to include so many more stakeholders in research sessions. This has led to a huge increase in buy-in as to what user research brings to product development. We also rolled out an internal program to democratize research called "Learning About Our Customers" (LAOC).
So, we see this as the beginning of a transformation cycle for us, and we are excited to continually engage with the research community to share and learn in order to spur consistent improvement.
Rosenfeld Media: What excites you about research and/or research operations?
Ash Brown:
As a designer by training, what excites me most is the "aha" moment for our Product, Engineering, and Sales stakeholders when they see clients using our designs during usability testing or when they hear what users have to say about a product idea during product viability testing.
It's such a simple thing to say "Knowing about users will help us deliver great and successful products," but the methodology, preparation, and rigor behind executing research projects can sometimes be intimidating. That "aha" moment wipes away all of that and turns every member of the product development team into huge fans of research.
Rosenfeld Media: What is the professional experience like for researchers and ResearchOps people at your company?
Ash Brown:
Senior UX Researchers help product teams focus on the end user. They are responsible for leading qualitative and quantitative user research initiatives that influence the evolution of Bloomberg's products. They inspire change by evangelizing for the integration of research methods into the product development process.
These researchers are embedded in product teams, but engage with their peers as part of the research community of practice. They also regularly attend or participate in industry conferences as part of their ongoing training and engagement with the wider UXR community.
Rosenfeld Media: What types of value and benefits do you/your product bring to the practice and our community?
Ash Brown:
Fast paced and collaborative! Because our software is used by professionals across the capital markets, we're always responding to something new: a new financial service our clients want to offer, a new regulation to adapt to, or a new technology to deploy. Bloomberg is also pretty "flat," with all team members having the opportunity to – and being expected to – speak up, contribute, and collaborate with stakeholders from day one.
At Bloomberg, designers and researchers work closely together. Because we run pretty lean, I'd say a designer is supporting a researcher on most of their research projects. This is such a fantastic collaboration. I've seen researchers really value the exposure to the design process, and they certainly relish sharing a research mindset with designers. This approach puts research at the center of design, and everyone can see how the research impacted the product's design and direction.
The biggest champions for research are definitely the other team members in the Bloomberg UX community. Designers plan for and consider research needs on design projects from the outset. Since the pandemic – and with the inclusion of so many more stakeholders in research – the support from that community has grown tremendously. I love hearing from senior engineers in quarterly planning meetings that they are looking forward to seeing how a prototype tests or who even propose research to clarify user needs!
Rosenfeld Media: What else should our community know about you?
Ash Brown:
Bloomberg as a whole, and the UX community in particular, is so dedicated to constant innovation. As a community, we are always looking to improve and do things better. I love that about us! It keeps work fresh and means that we're learning new things and gaining new skills every day, while also seeing our efforts enhance user engagement and drive better product development.
View Bloomberg's sponsor page for more.