Meet Alwar Pillai, CEO of Fable
March 2, 2022
We are lucky to have so many wonderful sponsors of this year's Advancing Research conference–and we thought you might like to get to know them better! We've asked all of them some questions that get at the heart of why they're passionate about user research and ResearchOps, what it's like to work with them, and what makes their products and services special to research professionals.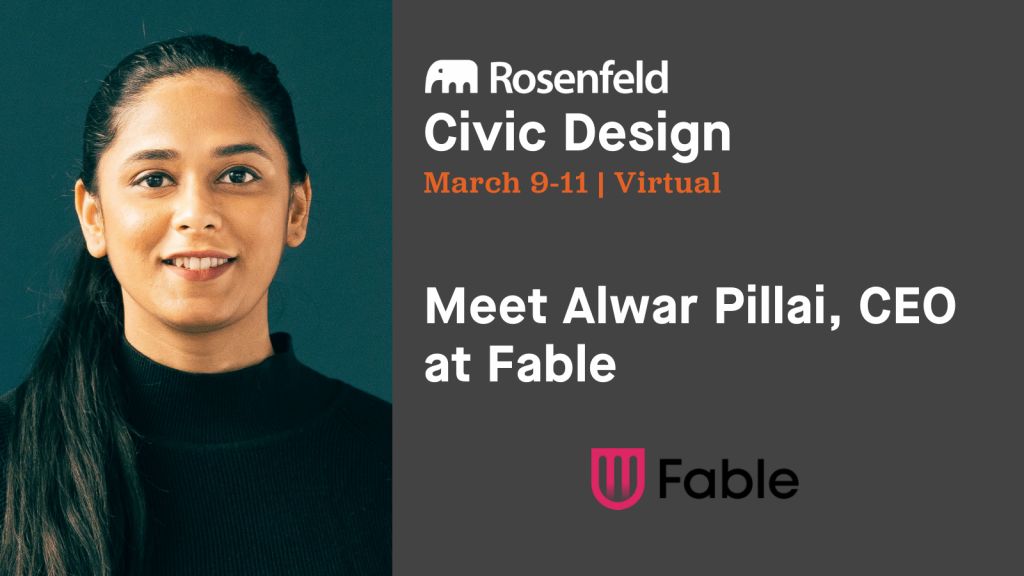 Rosenfeld Media: Why are you sponsoring this year's Advancing Research conference?
Alwar: Advancing Research is the coming together of people who care deeply about building great user experiences. The Rosenfeld community has the passion to work through the challenges of making digital products not only accessible to people with disabilities, but enjoyable! All people deserve to leverage the full power of the digital world, and we're excited to exchange and learn amongst likeminded researchers, designers, and builders of all things digital.
Rosenfeld Media: What excites you about research and/or research operations?
Alwar: Enterprises are complex systems with countless moving pieces, changing requirements, and competing initiatives. So the question is, how can you ensure that the experiences being built take into consideration the needs of people who might not be in the room, like people with disabilities? It's not just about the outcome, but it's about the process. If we can make the process of researching and building products more inclusive, then we can build accessible products. Enterprise builds products that create the framework of our society. If we can consistently build products that are accessible, then society will change for over a billion people who are currently not getting what technology has to offer.
Rosenfeld Media: What is the professional experience like for researchers at your company?
Alwar: Fable is focused on scaling inclusive design. The best way to build a product to do so is to practice the process ourselves. We build inclusion into everything we do, from the way we hire to the way we develop products, we leverage diverse perspectives to build adaptable and customizable experiences. We're pushing expectations and standards, and are always looking for better ways to do things.
Rosenfeld Media: What is your culture like, who would new employees work with, and who are the champions?
Alwar: At every stage, we're trying to figure out what it is to build an inclusive company. We don't just abide by the standards, but we're trying to improve on them. We always try to figure out the right way to do things, rather than settling on doing what's been done before. That means we're a culture of debate and discussion, and enjoy pushing each other's ideas. We believe that debate and discussion is where innovative ideas are found.
Rosenfeld Media: What types of value and benefits do you/your product bring to the practice and our community?
Alwar: Fable is making it easy for companies to practice inclusive design. Just like design and research, inclusive design requires significant operational capacity, and we're simplifying that. By operationalizing inclusive design, we are making sure that the voices of people with disabilities are weaved into every part of the product development lifecycle. Not only does that result in inclusive products, but it also inspires researchers and designers to think more deeply about personalization and adaptability. With Fable, digital teams gain empathy and build higher quality user-centric products. As a community, improving our ability to engage people with disabilities in product development helps fulfill our broader goal of enabling people with technology. In this case, it's ensuring that advances in technology are actually empowering those who have the most to benefit.
Rosenfeld Media: What else should our community know about you?
Alwar: I started out by getting a degree in UX. I then went on to get a Master's in Inclusive Design and learned from leaders in the space who have been hard at work for over 35 years. Now, with years of experience under my belt, one thing has become clear. I am not an expert. I am experienced in digital accessibility work, but the experts are those with lived experience – people with disabilities. My job as a researcher and designer is to listen to the experts, and that's what we're making easier at Fable.
View Fable's sponsor page for their scheduled sponsor activity sessions and more.