Meet Roberta Dombrowski, VP of User Research, User Interviews
January 31, 2022
We are lucky to have so many wonderful sponsors of this year's Advancing Research conference–and we thought you might like to get to know them better! We've asked all of them some questions that get at the heart of why they're passionate about user research and ResearchOps, what it's like to work with them, and what makes their products and services special to research professionals.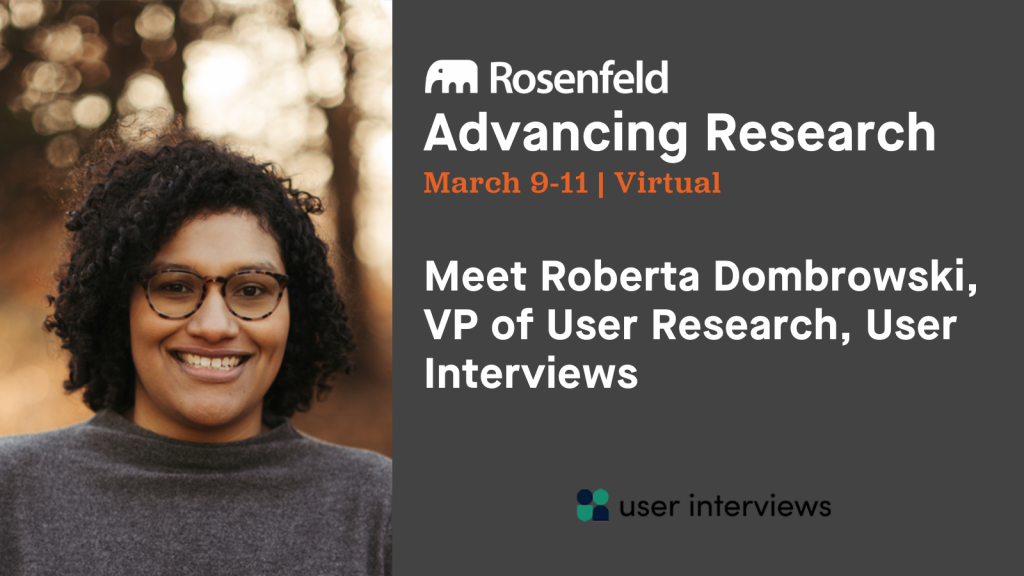 Rosenfeld Media: Why are you sponsoring this year's Advancing Research?
Roberta Dombrowski:
At User Interviews, our mission is to help companies discover and embrace user insights. We make it fast to access quality participants, easy to coordinate sessions, and possible to build an ongoing customer research habit.
This year's conference theme of advancing our field, ourselves, and our practice resonates with many of the big questions we face in our quest to make customer research more accessible and enjoyable for all who do it — researchers, non-researchers, startups, and enterprises alike.
We are always energized when we get to meet and connect with those in the thriving research community, and often find curious and like-minded peers to partner and nerd out with.
Rosenfeld Media: What excites you about research and/or research operations?
Roberta Dombrowski:
I am so passionate about research that I took a role as the head of user research at a user research company — so meta! I believe that research is a critical piece of bringing any product or service idea to life, and I love getting to coach and collaborate with a diverse range of colleagues who are using customer insights to make better-informed decisions. Research is truly a team sport.
Research operations is a field I'm particularly excited about because I see so much potential for it to add value for companies scaling their overall research practice and treating customer listening as a strategic priority.
I am actually building a ReOps-first practice at User Interviews because there are so many people across the company actively engaged in research, from product and engineering, to design and marketing. We're at a stage where we need to intentionally build infrastructure so our research can scale effectively as the business grows.
Rosenfeld Media: What types of value and benefits do you/your product bring to the practice and our community?
Roberta Dombrowski:
User Interviews is the fastest and easiest way to recruit participants for research. Get insights from any niche within our pool of over 850,000 participants through "Recruit" or build and manage your own panel with "Research Hub," the first CRM built for researchers. Our tools make your sourcing, screening, scheduling, messaging, incentive payouts, and all aspects of research recruiting simpler.
Key benefits for researchers:
Fast matching. The median time to first match is just 3 hours when recruiting from our audience of 850,000.
Niche targeting. Rich participant data, sophisticated matching, and fraud detection allow you to reach high-quality and highly-segmented consumer and professional audiences.
Simple workflow. Replace 5+ tools with a unified solution that handles sourcing, screening, scheduling, messaging, incentives, and other logistics.
Method-agnostic. User Interviews pairs well with other research and testing tools — great for teams that do mixed methods research.
Exceptional service. Every recruit is supported by a project coordinator, and every subscription comes with access to customer success.
Free to start — affordable to scale. Start for free, then upgrade to a subscription as your research needs grow. We have plans and add-ons to suit teams of any size.
Rosenfeld Media: What else should our community know about you?
Roberta Dombrowski:
User Interviews is free to start and affordable to scale as your research needs grow. Recruit your first three participants on us, or use "Research Hub" free for up to 100 contacts.
Visit userinterviews.com to get started.
View User Interviews' sponsor page for their scheduled sponsor activity sessions and more.