Meet Ash Brown, Global Head of Bloomberg UX
December 2, 2022
We are lucky to have so many wonderful sponsors of this year's Design in Product conference–and we thought you might like to get to know them better! We've asked all of them some questions that get at the heart of why they're passionate about ux and product design, what it's like to work with them, and what makes their products and services special to ux professionals.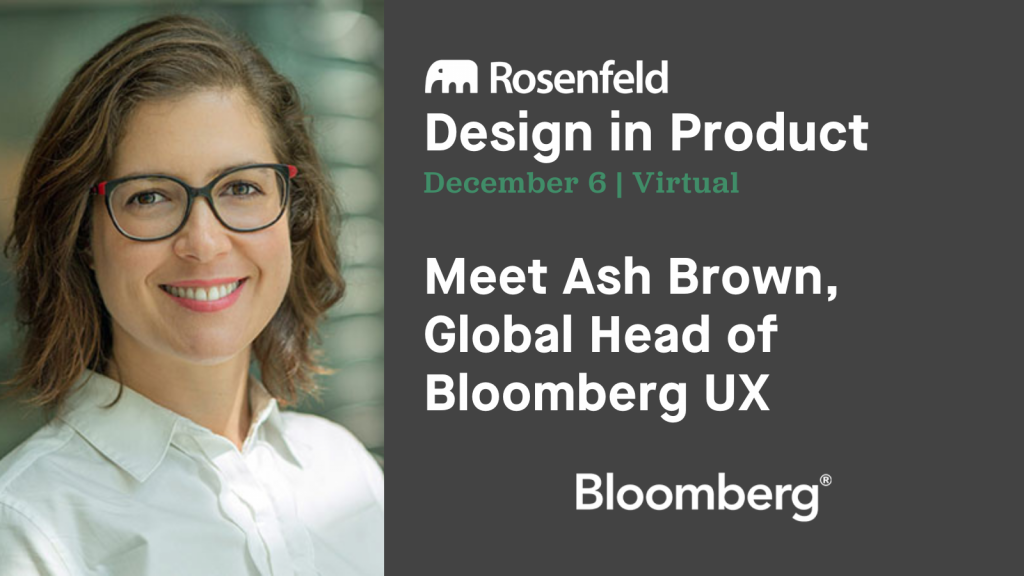 Rosenfeld Media: Why are you sponsoring this year's Design in Product?
Ash Brown:
Bloomberg UX is sponsoring Design in Product for a few reasons. Most importantly, we are really passionate about continuously improving how we partner with our product partners and supporting our community's efforts to do so. In fact, we are currently reading Christian Crumlish's book "Product Management for UX People: From Designing to Thriving in a Product World!" in one of our Communities of Practice.
We also think we have great stories to share regarding our own collaboration with our product partners. It's been a long journey here at Bloomberg and we hope to share the lessons we've learned with our fellow designers.
Finally, our team is growing and we're looking for talented designers to join us, so we hope to meet some of you!
Rosenfeld Media: What excites you about ux and product design?
Ash Brown:
Personally, I love that the UX discipline brings laser focus to identifying and solving people problems. I know all of us can relate to that inner spark we feel when our work has helped deliver real value to someone via a new solution or by eliminating existing pain points. That feeling is addictive and it lights me up every time!
As a discipline at Bloomberg, I'm excited to see user-centered design go from a UX practice to a company value as our partners continue seeing the value in what we do. We've gone from "Should I work with UX?" to "When am I going to work with UX and what is that going to look like?"
Rosenfeld Media: What is the professional experience like for designers at your organization?
Ash Brown:
Here's what a few of our team members have to say!
Deana Kaminski has been at Bloomberg since 2020 and recently became an Interaction Designer Team Lead.
"Endless opportunity! UX at Bloomberg supports a variety of projects and products so there's always the opportunity to partner and create value in unique ways. We follow a user-centered approach but have the autonomy to bring new processes, methods, or working styles to any project we work on if the complexity, user needs, people, or project warrant it. It's always fulfilling to tailor your process to the needs of your current project and see the fruition of your efforts with successful outcomes."
Bryn Ray, Interaction Designer, has been at Bloomberg for three months.
"Being a designer at Bloomberg involves channeling unrelenting enthusiasm to service our clients into coherent and efficient experiences. Our partners truly understand that our clients are at the center of what we do, which frees us up to focus on how best to do that. The experiences we work on are often complex and challenge you to immerse yourself in the subject matter. It's not easy, but it's incredibly stimulating and rewarding. Complexity also makes collaboration essential to everything we do. Fortunately, I've yet to find someone who isn't willing to go above and beyond to help."
Barbara Rodriguez, Interaction Designer, has been at Bloomberg for nine months.
"My professional experience at Bloomberg has been great, with lots of learning, changes, and good experiences. I interact with visual designers, researchers, and engineers pretty much every day. Whenever I feel ready to receive feedback, I reach out and receive it pretty quickly. By collaborating frequently and productively, I am able to pick up skills outside of my focus, as well as meet others across the company. This interactivity also makes complex challenges a lot easier to solve, and we strive to make complex workflows easy for our users."
Rosenfeld Media: What is your culture like, who would new employees work with, and who are the champions?
Ash Brown:
Fast-paced and collaborative! Because our software is used by professionals across the global capital markets, we're always responding to something new: a new financial service our clients want to offer, a new regulation to adapt to, or a new technology to deploy. Bloomberg is also pretty "flat," where all team members have the opportunity to – and are expected to – speak up, contribute, and collaborate with stakeholders from day one.
New team members are well-supported in the first several months with structured onboarding to get introductions to each of our department's disciplines, as our team is composed of Interaction Designers, Visual Designers, UX Researchers, Prototypers, Technical Writers, and User Assistance Product Managers, as well as Product Release and Consistency experts. Bloomberg also prizes collaboration, so we ensure new team members have a solid support system from across the team so they can be successful.
Champions for design are everywhere! We've worked with so many partners in product and engineering who have really seen the value we bring to the process building valuable, functional, usable and pleasant products.
Rosenfeld Media: What else should our community know about you?
Ash Brown:
Bloomberg as a whole, and the UX community in particular, is so dedicated to continuous learning and innovation. As a community, we are always looking to improve and do things better. I love that about us! It keeps work fresh and means that we're learning new things and gaining new skills every day, while also seeing our efforts enhance user engagement and drive better product development.
View Bloomberg's sponsor page for more.