Meet Chris Lee, Design Manager at Sprig
November 22, 2022
We are lucky to have so many wonderful sponsors of this year's Design in Product conference–and we thought you might like to get to know them better! We've asked all of them some questions that get at the heart of why they're passionate about ux and product design, what it's like to work with them, and what makes their products and services special to ux professionals.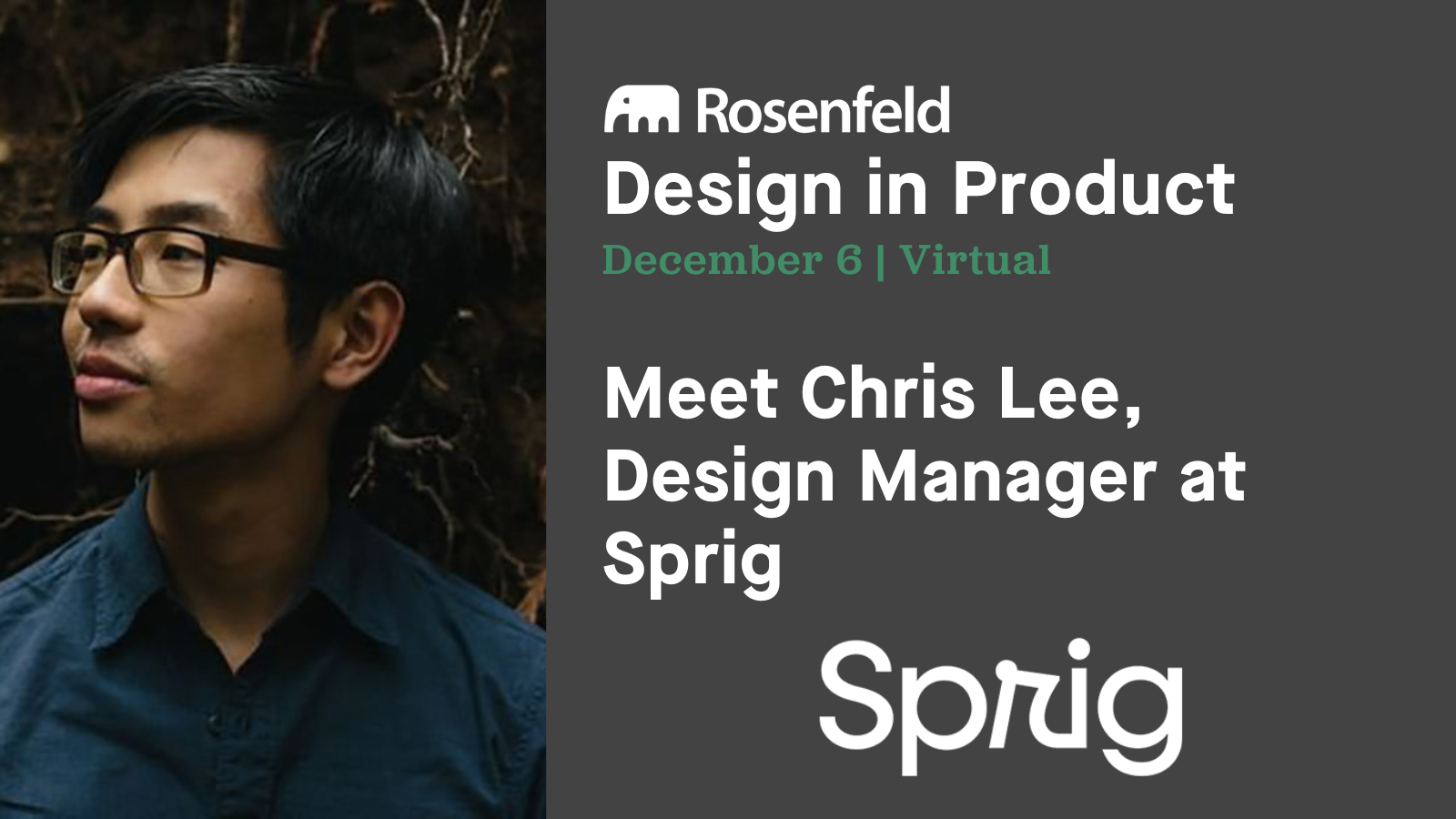 Rosenfeld Media: Why are you sponsoring this year's Design in Product?
Chris Lee:
Sprig is sponsoring Design in Product because we believe that when product and design teams work together they can build really amazing products. In fact, we have built our entire business around that idea. We see user research as the bridge that brings product and design together and centers teams on their users' needs. We are so bought in on this idea our platform has unlimited seats so user insights are available to all, no matter what team you sit on.
Rosenfeld Media: What excites you about ux and product design?
Chris Lee:
Design at its best brings together the creative and analytical ways of thinking into making great products. We're now at a point in the industry in which many companies understand the value of that skill set in making products that stand out in the market. At Sprig, we pride ourselves on making a simple, delightful platform – and view that as essential to our business success.
Rosenfeld Media: What types of value and benefits do you/your product bring to the practice and our community?
Chris Lee:
My favorite part of the product design process is making decisions: considering a wide array of divergent options, and factoring in our user goals, business goals, and technical constraints – and then making thoughtful, deliberate decisions.
That's why I joined the team at Sprig recently. We're making tools that allow product teams to make better, more user-informed decisions by embedding research into product development.
Rosenfeld Media: What else should our community know about you?
Chris Lee:
If you're interested in joining a small team passionate about design and research, we're hiring for product and brand design at Sprig!
View Sprig's sponsor page for more.